[20-21 March 2023] Indonesian Water, Sanitation and Hygiene Symposium (IsWASH) 2023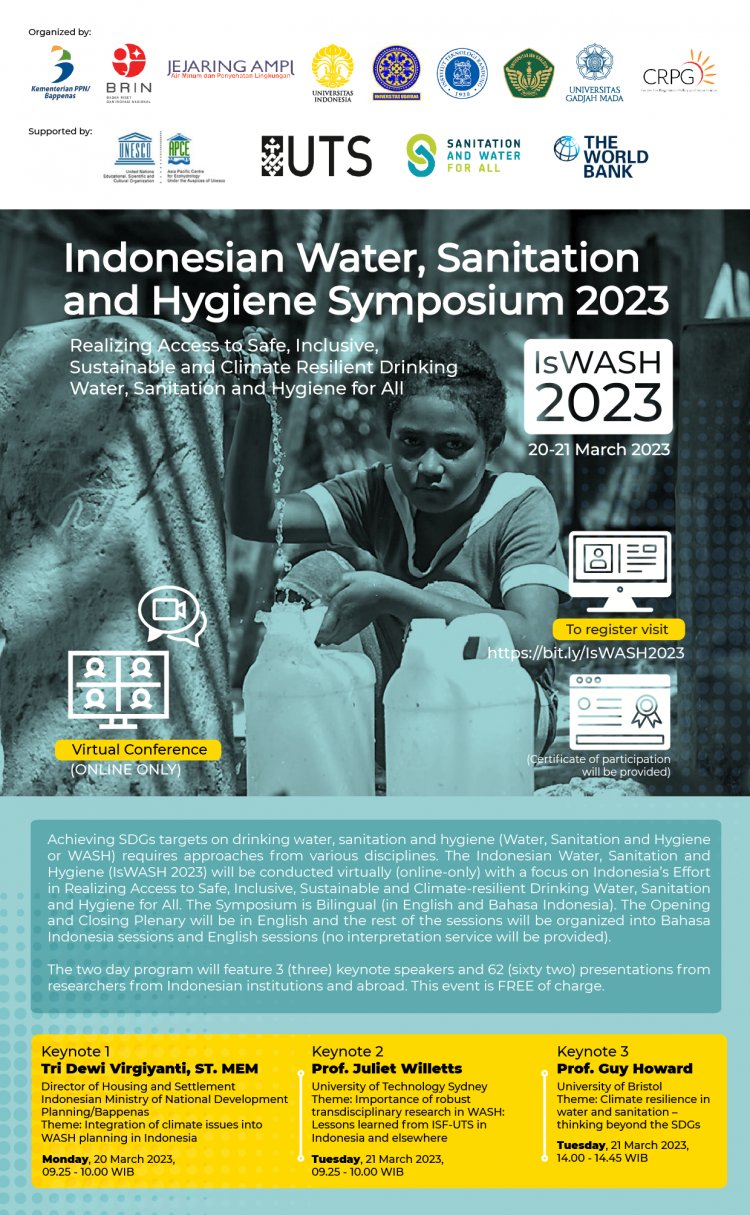 Indonesian Water, Sanitation, and Hygiene Symposium 2023
Achieving SDGs targets on drinking water, sanitation and hygiene (Water, Sanitation and Hygiene or WASH) requires approaches combined from various disciplines. In Indonesia, there is yet a forum where researchers and academics in the WASH sector could exchange ideas academically and discuss the latest insights in science, technology and the governance of this sector.
This event is also needed to collate various scientific evidence and the latest research. In addition, through "policy synthesis", this symposium is expected to advocate scientific findings in order to provide input for future evidence-based policies in the Indonesian WASH Sector.
The Symposium will be conducted Virtually (online-only) with a focus on Indonesia's Effort in Realizing Access to Safe, Inclusive, Sustainable and Climate-resilient Drinking Water, Sanitation and Hygiene for All. Any abstract related or relevant to Indonesia's effort – or a comparative analysis involving Indonesia and other countries — in achieving SDGs Target on WASH is welcome.
The Symposium is Bilingual (in English and Bahasa Indonesia). The Opening and Closing Plenary will be in English (with interpretation in Bahasa Indonesia) and the rest of the sessions will be organized into Bahasa Indonesia sessions and English sessions (both without interpretation).
Organizers
Asia Pacific Center for Ecohydrology
Badan Riset dan Inovasi Nasional (BRIN)
Center for Regulation Policy and Governance (CRPG)
Institut Teknologi Bandung (ITB)
Jejaring Air Minum dan Penyehatan Lingkungan (AMPL)
Universitas Gadjah Mada (UGM)
Universitas Indonesia (UI)
Universitas Ibn Khaldun Bogor, Program Studi Ilmu Lingkungan
Universitas Udayana (UNUD)
Co-Hosts
Badan Perencanaan Pembangunan Nasional (Bappenas)
Institute for Sustainable Futures, University of Technology Sydney
Sanitation and Water for All (SWA)
The World Bank
Supported by:
International Water Association (IWA)