[ 26 Juli 2023 ] Free Webinar: Machine Learning and Artificial Intelligence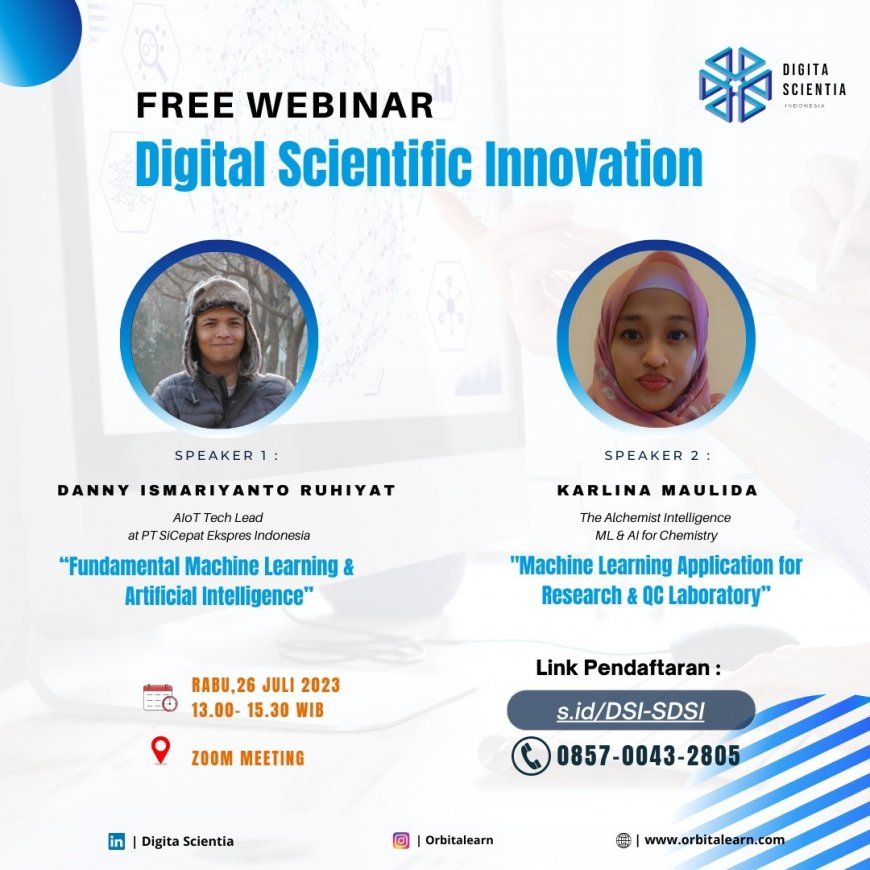 Dalam era digital saat ini, inovasi ilmiah telah mengalami transformasi yang signifikan berkat kemajuan teknologi digital. Dengan adanya kemajuan dalam kecerdasan buatan (AI), Machine Learning, analisis big data, dan internet of things (IoT), para ilmuwan memiliki alat yang lebih kuat untuk menjelajahi kompleksitas fenomena alam, menemukan solusi baru, dan mempercepat kemajuan dalam berbagai disiplin ilmu.
Melalui digital scientific innovation, Indonesia dapat meningkatkan kapasitasnya dalam penelitian ilmiah, pengembangan teknologi, dan penerapan solusi inovatif.
Inovasi berperan penting dalam mengatasi tantangan sosial, ekonomi, dan lingkungan yang dihadapi oleh negara ini, serta memberikan dampak positif bagi masyarakat dan perkembangan ilmu pengetahuan di Indonesia.
Mari mempersiapkan diri untuk menghadapi era transformasi digital dengan mengikuti webinar kami yang akan dilaksanakan pada :
Hari. Tanggal : Rabu, 26 Juli 2023
Waktu : 13.00-15.30 WIB
Tempat : Zoom Meeting
Buruan daftar sekarang !! Kuota terbatas!!
Link Pendaftaran : s.id/DSI-SDSI
What's Your Reaction?