[15 - 17 Februari 2023] Raman Spectroscopy and Its Applications, from Concept to Practice | Virtual Workshop & Online Training programs 01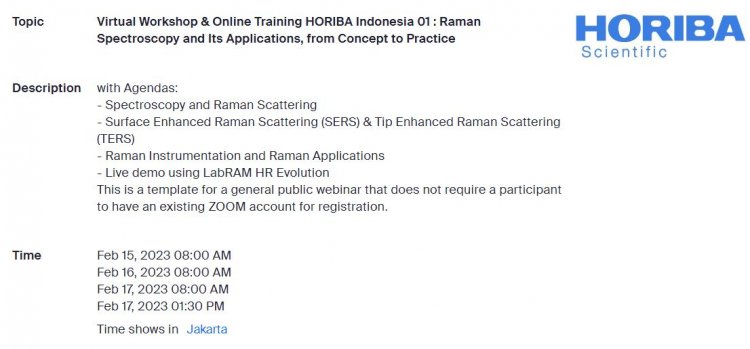 Raman Spectroscopy and Its Applications, from Concept to Practice | Virtual Workshop & Online Training programs 01
Dear Most Valuable Customers,
Melalui email ini kami mengundang kembali bapak-bapak dan ibu-ibu serta rekan-rekan semua untuk dapat mengikuti Virtual Workshop & Online Training Programs yang akan kami adakan selanjutnya.
Virtual Workshop & Online Training programs 01:
Judul: "Raman Spectroscopy and Its Applications, from Concept to Practice"
Waktu: Rabu-Kamis, 15-16 February (08.00-12.00 WIB) and Jumat 17 February (08.00-11.30 & 13.30-16.00 WIB)
Agenda
Spectroscopy & Raman Scattering
Surface Enhanced Raman Scattering (SERS) & Tips Enhanced Raman Scattering (TERS)
Raman instrumentation & Applications
Live demo using LabRAM HR Evolutuion
Link registrasi: https://us06web.zoom.us/webinar/register/WN_OSCfK_kbSNOtPEznNZCq0Q
Note
Para peserta yang hadir akan diberikan fasilitas e-certificate (setelah mengisi daftar hadir yang diberikan pada saat acara yaitu pada link yang diberikan panitia pada kolom chat)
PPT dan Video Recording akan kami kirimkan kepada para peserta yang mendaftar walaupun tidak hadir
Acara akan menggunakan fasilitas ZOOM
e-certificate akan dikirimkan ke email maksimal 1 minggu setelah acara berakhir. Mohon di cek di INBOX dan SPAM.
E-certificate akan dilengkapi dengan informasi Total Hours
Acara ini gratis dan terbuka untuk umum termasuk mahasiswa dari berbagai disiplin ilmu
Link registrasi silahkan di share ke yang lain yang tertarik untuk mengikutinya
Ada quiz berhadiah (emas ANTAM 0.5 gram) bagi satu peserta yang berhasil menjawab pertanyaan 100% dengan benar dan tercepat. (quiz akan dikirimkan setelah acara selesai)
Besar harapan apabila bapak dan ibu dapat mengikuti dan hadir pada acara tersebut.
Best Regards
Mr. Fatih Khusno Satrio, S.Si., M.Si.
Technical Specialist Supervisor
HORIBA Scientific Indonesia
Mobile: 0811 9064 999
E-mail: [email protected]
www.horiba.com