[Due Date December 1st, 2023] Call For Paper 2023 | Indonesian Journal of Chemical Studies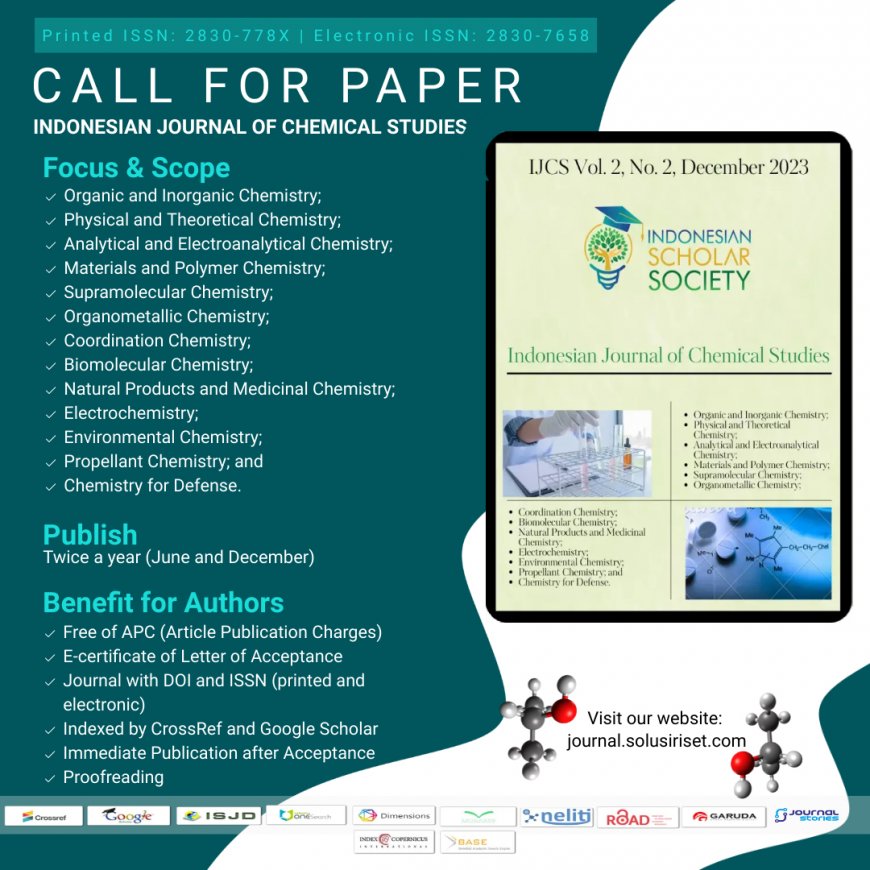 Call For Paper 2023 | Indonesian Journal of Chemical Studies | Vol. 2, No. 2, December 2023
The Indonesian Journal of Chemical Studies (IJCS) invites all lecturers, teachers, researchers, and students to submit your manuscripts for the No. 2, Vol. 2, December 2023 issue of the IJCS. IJCS is a peer-reviewed, open-access journal that publishes original research articles, review articles, as well as short communication in all areas of basic and applied chemistry. IJCS was managed & published by the Indonesian Scholar Society.
This journal is published 2 times a year, namely every June and December. IJCS covers the following topics, but is not limited to:
Organic and Inorganic Chemistry;
Physical and Theoretical Chemistry;
Analytical and Electroanalytical Chemistry;
Materials and Polymer Chemistry;
Supramolecular Chemistry;
Organometallic Chemistry;
Coordination Chemistry;
Biomolecular Chemistry;
Natural Products and Medicinal Chemistry;
Electrochemistry;
Environmental Chemistry;
Propellant Chemistry; and
Chemistry for Defense.

Benefits:
1. Free of APC (Article Publication Charges)
2. E-certificate of Letter of Acceptance
3. Journal with DOI and ISSN (printed and electronic)
4. Indexed by CrossRef and Google Scholar
5. Proofreading
Deadline Submission: December 1st, 2023
Editor in Chief: Dr. Rahmat Basuki, M.Sc. (Indonesian Scholar Society; Department of Chemistry, Republic Indonesia Defence University); Phone: +62-857-4321-3964.
Website: https://journal.solusiriset.com/index.php/ijcs
What's Your Reaction?