Call For Paper 2022 | Indonesian Journal of Chemical Studies | Vol. 1, No. 1, June 2022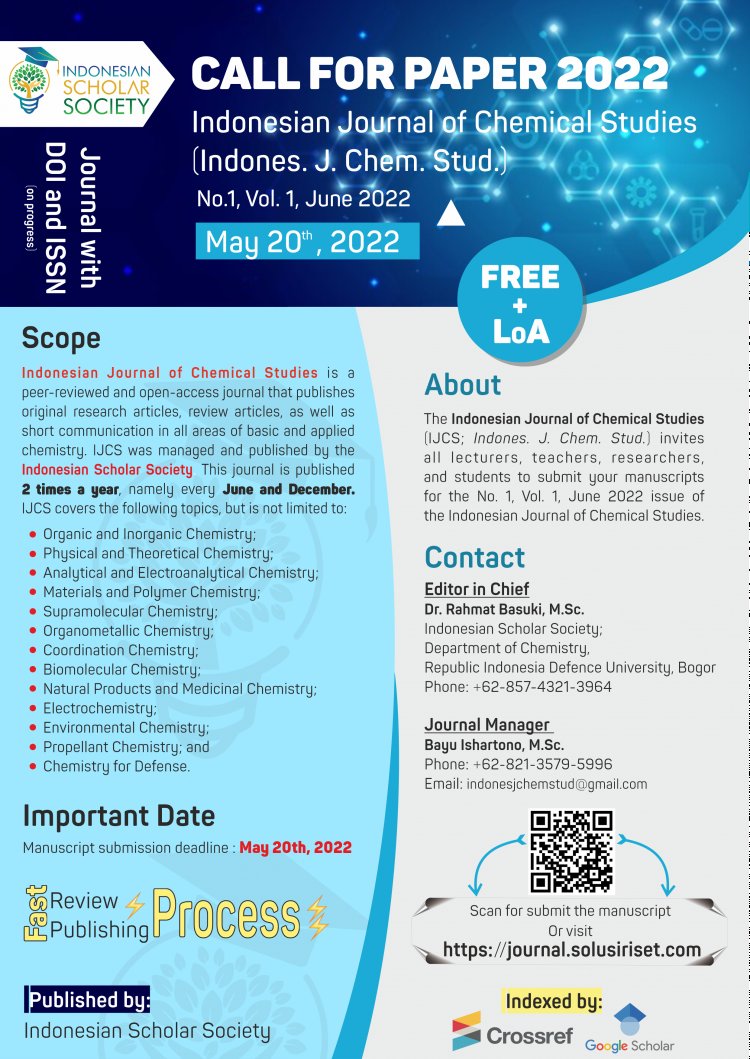 Call For Paper 2022 | Indonesian Journal of Chemical Studies | Vol. 1, No. 1, June 2022
The Indonesian Journal of Chemical Studies (IJCS; Indones. J. Chem. Stud.) invites all lecturers, teachers, researchers, and students to submit your manuscripts for the No. 1, Vol. 1, June 2022 issue of the Indonesian Journal of Chemical Studies. IJCS is a peer-reviewed, open-access journal that publishes original research articles, review articles, as well as short communication in all areas of basic and applied chemistry. IJCS was managed & published by the Indonesian Scholar Society. This journal is published 2 times a year, namely every June and December. IJCS covers the following topics, but is not limited to:
Organic and Inorganic Chemistry;
Physical and Theoretical Chemistry;
Analytical and Electroanalytical Chemistry;
Materials and Polymer Chemistry;
Supramolecular Chemistry;
Organometallic Chemistry;
Coordination Chemistry;
Biomolecular Chemistry;
Natural Products and Medicinal Chemistry;
Electrochemistry;
Environmental Chemistry;
Propellant Chemistry; and
Chemistry for Defense.
Benefits
Free of Charge
E-sertificate of Letter of Acceptance
Journal with DOI and ISSN (printed and electeronic) (on process)
Indexed by CrossRef and Google Scholar
Deadline Submission
May 20th, 2022
More Information
https://journal.solusiriset.com/index.php/ijcs/about/submissions
Contact
Editor in Chief: Dr. Rahmat Basuki, M.Sc. (Indonesian Scholar Society; Department of Chemistry, Republic Indonesia Defence University, Bogor); Phone: +62-857-4321-3964
Journal Manager: Bayu Ishartono, M.Sc. (Phone: +62-821-3579-5996); Email:

[email protected]
What's Your Reaction?