[22-23 Agustus 2023] Business Psychology and Work Life in Digital Era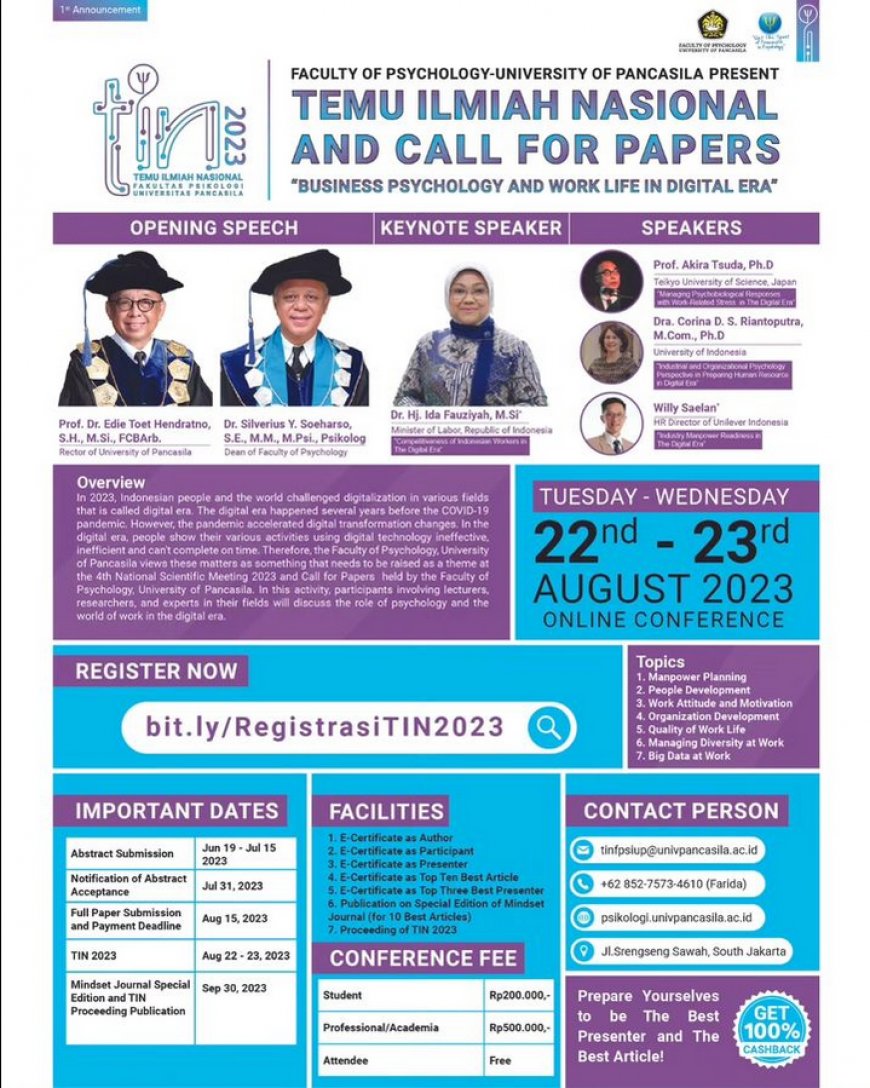 Fakultas Psikologi Universitas Pancasila dengan bangga mempersembahkan Temu Ilmiah Nasional 2023 dengan Tema:
Business Psychology and Work Life in Digital Era



Kesempatan bagi mahasiswa, akademisi maupun praktisi untuk mempresentasikan penelitian dengan berbagai topik, seperti Manpower Planning, People Development, Work Attitude and Motivation, Organization Development, Quality of Work Life, Managing Diversity at Work, and Big Data at Work.
TIN 2023 FPsi UP akan diselenggarakan pada:
Hari, Tanggal : Selasa-Rabu, 22-23 Agustus 2023
Media: Online via Zoom Meeting
Acara ini juga akan mengundang Keynote Speaker dan Speakers yang luar biasa, antara lain:
Keynote Speaker:
Dr. Hj. Ida Fauziyah, M.Si (Menteri Ketenagakerjaan Republik Indonesia)*
Speakers:
1. Professor Akira Tsuda, Ph.D. (Teikyo University of Science, Japan)
2. Dra. Corina D. S. Riantoputra, M.Com., Ph.D (University of Indonesia)
3. Willy Saelan (Human Resources Director of Unilever Indonesia)*
*On Confirmation
Pendaftaran acara ini dapat dilakukan melalui link berikut:
bit.ly/RegistrasiTIN2023
Untuk informasi lebih lanjut mengenai tanggal-tanggal penting ataupun fasilitas, dapat dilihat pada poster atau dapat juga menghubungi kami melalui:
Whatsapp: 085275734610 (Farida Aini)
Email: [email protected]
What's Your Reaction?