[24 November 2022] Call For Paper | Seminar Nasional Teknologi Energi dan Mineral Ke-2 | PEM Akamigas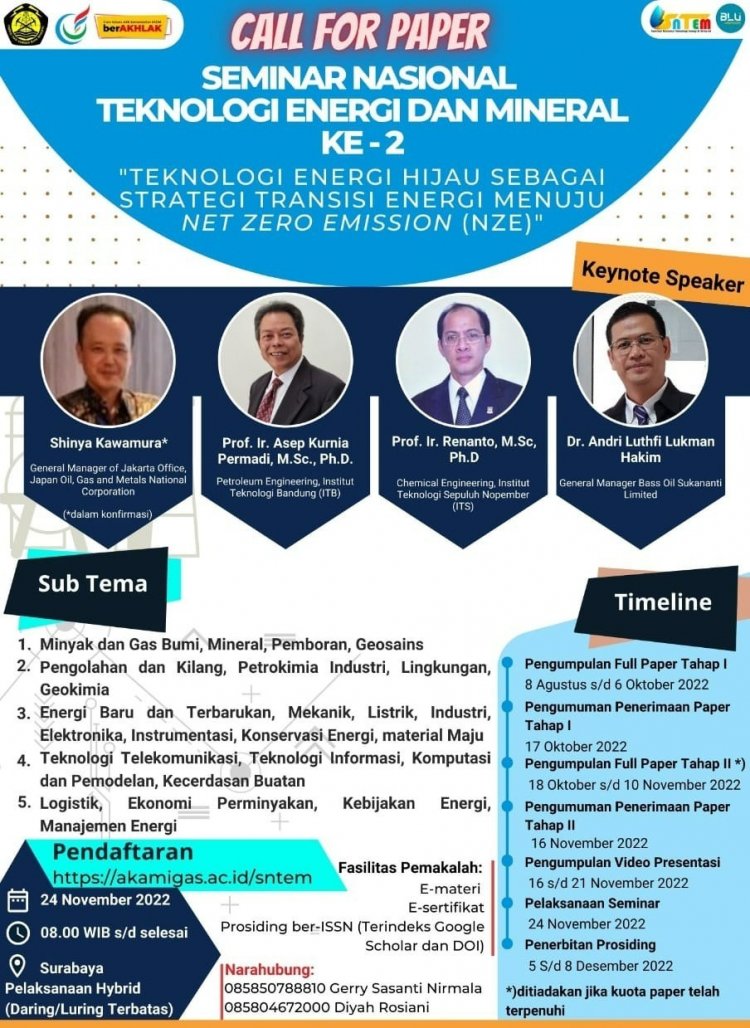 [Repost from PEM Akamigas]
Seminar Nasional Teknologi Energi dan Mineral Ke-2 | Teknologi Energi Hijau sebagai Strategi Transisi Energi menuju Net Zerro Emission (NZE) 2060
Seminar Nasional Teknologi Energi dan Mineral (SNTM) ke-2 mengusung tema Teknologi Energi Hijau sebagai Strategi Transisi Energi menuju Net Zerro Emission (NZE) 2060. Sebagai institusi pendidikan vokasi yang berkonsentrasi di bidang minyak dan gas bumi yang menggunakan sumber energi fossil, strategi untuk mendukung NZE dalam masa transisi merupakan sebuah tantangan yang dapat memberikan peluang untuk menjadi daya ungkit keberadaan PEM Akamigas. Tantangan tersebut adalah mendapatkan teknologi yang diaplikasikan pada kegiatan operasi migas untuk mendukung NZE.
Keynote Speakers
Shinya Kawamura (General Manager of Jakarta Office, Japan Oil, Gas and Metals National Corporation)
Prof. Ir. Asep Kurnia Permadi, M.Sc., Ph.D. (Petroleum Engineering, Institut Teknologi Bandung)
Prof. Ir. Renanto, M.Sc., Ph.D. (Chemical Engineering, Institut Teknologi Sepuluh Nopember Surabaya)
Dr. Andi Luthfi Lukman Hakim (General Manager Bass Oil Sukananti Limited)
Focus and Scope
Seminar nasional yang diselenggarakan oleh Politeknik Energi dan Mineral Akamigas dilakukan oleh Dosen, Peneliti, Praktisi, Mahasiswa, dan Masyarakat umum, dapat berupa hasil penelitian, kajian maupun review mengenai berbagai bidang yang dikelompokkan dalam bidang kompetensi:
Bidang 1: Minyak dan gas bumi, Mineral, Pemboran, Geosains
Bidang 2: Pengolahan dan Kilang, Petrokimia industri, Lingkungan, Geokimia
Bidang 3: Energi baru dan terbarukan, Mekanik, Listrik, Industri, Elektronika, Instrumentasi, konversi energi, Material maju
Bidang 4: Teknologi Telekomunikasi, Teknologi Informasi, Komputasi dan Pemodelan, Kecerdasan buatan
Bidang 5: Logistik, ekonomi perminyakan, kebijakan energi, manajemen energi
Timeline
Pengumpulan fullpaper tahap 1: 8 Agustus - 6 OKtober 2022
Pengumuman penerimaan fullpaper tahap 1: 17 Oktober 2022
Pengumpulan fullpaper tahap 2: 18 Oktober - 10 November 2022
Pengumuman penerimaan fullpaper tahap 2: 16 November 2022
Pengumpulan video presentasi: 16-21 November 2022
Pelaksanaan seminar: 24 November 2022
Penerbitan prosiding: 5-8 Desember 2022
More Information
What's Your Reaction?