[25 Jun 2022] WORKSHOP PENULISAN ILMIAH: A to Z skills for scientific writing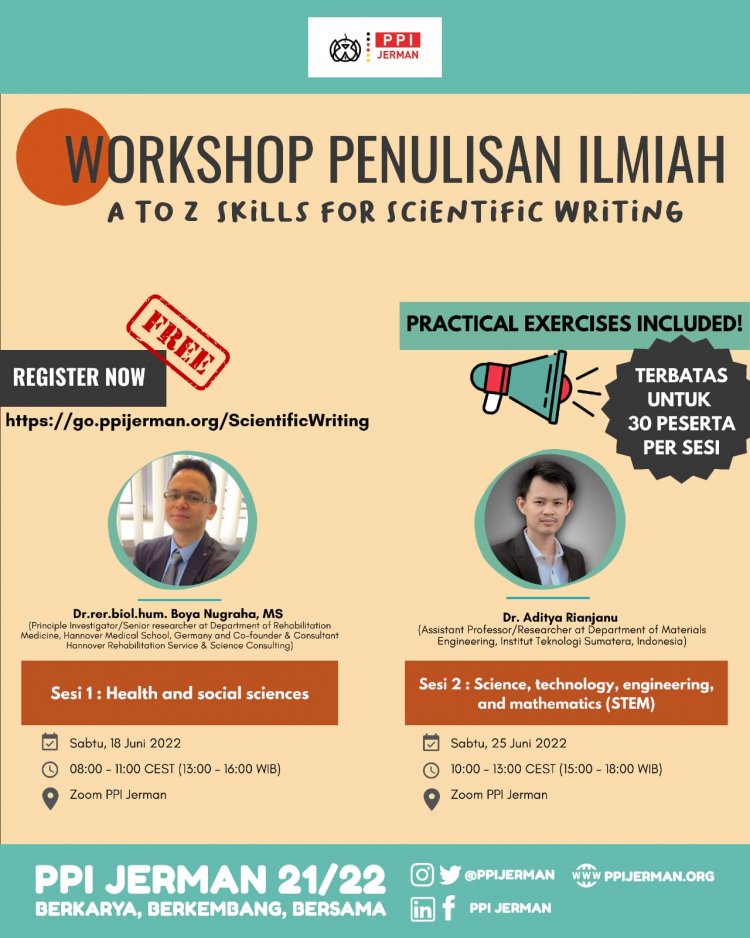 WORKSHOP PENULISAN ILMIAH: A to Z skills for scientific writing
⚠️ Meliputi practical exercises kupas tuntas 3 abstrak dan 3 figures/tables penelitian terpilih dari peserta
⚠️Terbatas untuk 30 peserta per sesi workshop (sistem pendaftaran first come-first served) sehingga setiap peserta dapat terlibat aktif
⚠️Gratis
SESI 1: Health and social sciences
Waktu: Sabtu, 18 Juni 2022
⏰: 08:00 – 11:00 CEST (13:00 – 16:00 WIB)
Via : Zoom PPI Jerman
Narasumber: Dr.rer.biol.hum. Boya Nugraha, MS
*Principal Investigator/Senior researcher at Department of Rehabilitation Medicine, Hannover Medical School, Germany
*Co-founder & Consultant Hannover Rehabilitation Service & Science Consulting
Moderator: Fania Feby Ramadhani, M. Sc.
*Doctoral candidate, TUM School of Life Science and Helmholtz Graduate School Environmental Health (life science)
SESI 2: Science, technology, engineering, and mathematics (STEM)
Waktu: Sabtu, 25 Juni 2022
⏰: 10:00 – 13:00 CEST (15:00 – 18:00 WIB)
Via: Zoom PPI Jerman
Narasumber: Dr. Aditya Rianjanu
*Assistant Professor/Researcher at Department of Materials Engineering, Institut Teknologi Sumatera, Indonesia
Moderator: Laras Prasakti, S.T., M.Eng.
*Doctoral candidate, RWTH Aachen (metal recycling & electrometallurgy)
⚠️PENDAFTARAN TERBATAS, DIBUKA HINGGA KUOTA PENUH
What's Your Reaction?