[25 Maret 2023] Pengenalan Beasiswa FLTA dan UPGRAD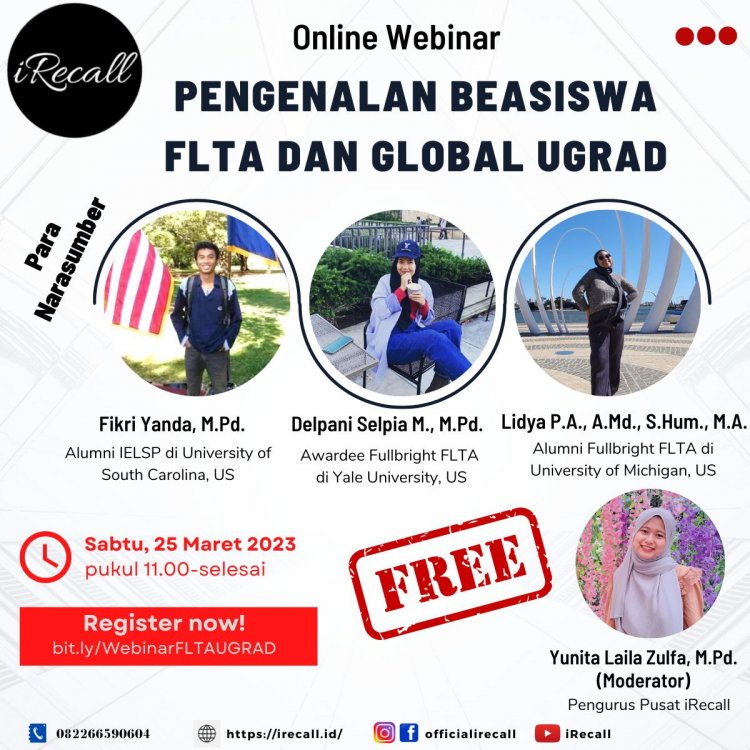 Pengenalan Beasiswa FLTA dan UPGRAD
The Indonesian Researchers for Language Learning and Teaching (iRecall) proudly presents Online Webinar "Pengenalan Beasiswa FLTA dan GLOBAL UGRAD".
Save the date:
Sabtu, 25 Maret 2023
11.00 WIB-selesai
HTM : Free
Venue: Online Zoom
Pemateri:
Fikri Yanda, M.Pd. (Alumni Awarded IELSP University of South Carolina, USA)
Delpani Selpia M., M.Pd. (Awardee Fullbright FLTA di Yale University)
Lidya P. A., A.Md., S.Hum., M.A. (Alumni Awardee FLTA di University of Michigan)
Moderator: Yunita L. Z., M.Pd (Pengurus Pusat iRecall)
Fasilitas:
Ilmu yang bermanfaat
Relasi
Sertifikat
Yuk buruan daftar…. GRATIS!!
Caranya mudah, cukup:
Link pendaftaran yang tersedia: (bit.ly/WebinarFLTAUGRAD)
Yuk buruan, pendaftaran ditutup sewaktu-waktu jika kuota peserta sudah terpenuhi.
CP: 082266590604