[31 Januari 2023] Studying in Indiana University Bloomington with LPDP Scholarship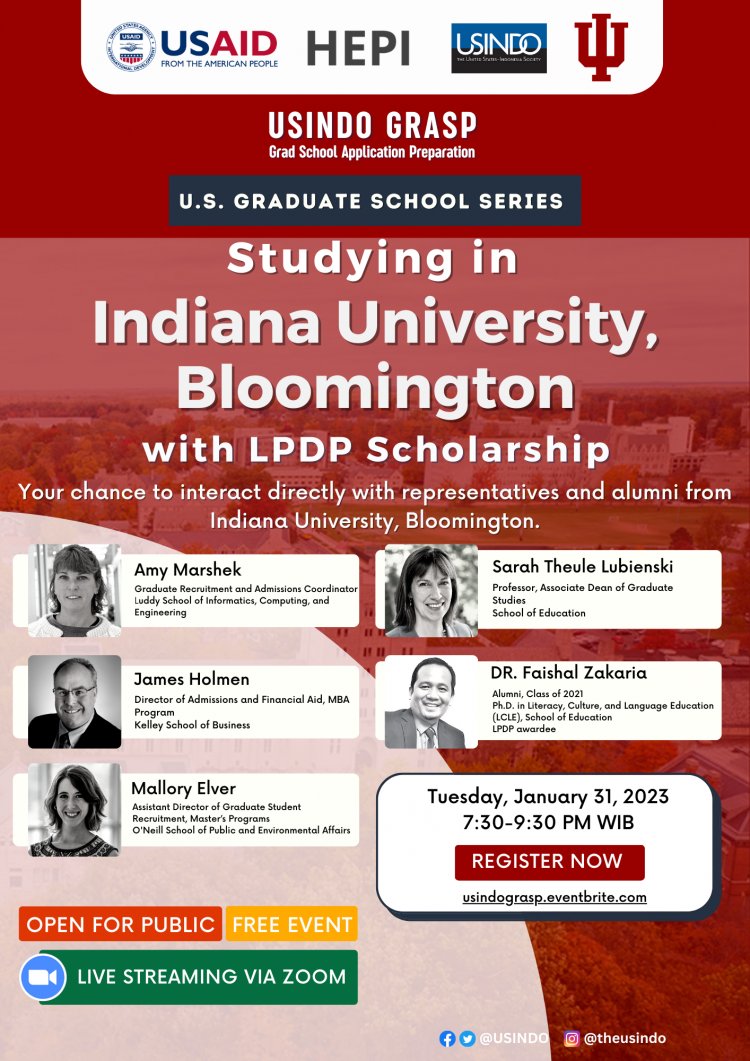 Studying in Indiana University Bloomington with LPDP Scholarship
Meet directly with graduate school representatives from Indiana University Bloomington through our U.S. Graduate School Series, an exclusive series of events featuring rare opportunities to interact directly with schools from a selection of top U.S. universities that are included in the LPDP scholarship list! Join us on Tuesday, January 31, 2023; 7:30-9:30 pm WIB.
Speakers
Amy Marshek | Graduate Recruitment and Admissions Coordinator; Luddy School of Informatics, Computing & Engineering
James Holmen | Director of Admissions and Financial Aid, MBA Program; Kelley School of Business
Mallory Elver | Assistant Director of Graduate Student Recruitment, Master's Programs; O'Neill School of Public & Environmental Affairs
Sarah Theule Lubienski | Professor, Associate Dean of Graduate Studies; School of Education
Dr. Faishal Zakaria | Alumni, Class of 2021, Ph.D. in Literacy, Culture, and Language Education (LCLE); School of Education, LPDP awardee
Please register at usindograsp.eventbrite.com and join us for this discussion! This event is free and open to the public. For any questions, please email [email protected].