[7-11 Agustus 2023] CHEMISTRY EDUCATION AND CHEMISTRY (CEC) SUMMER SCHOOL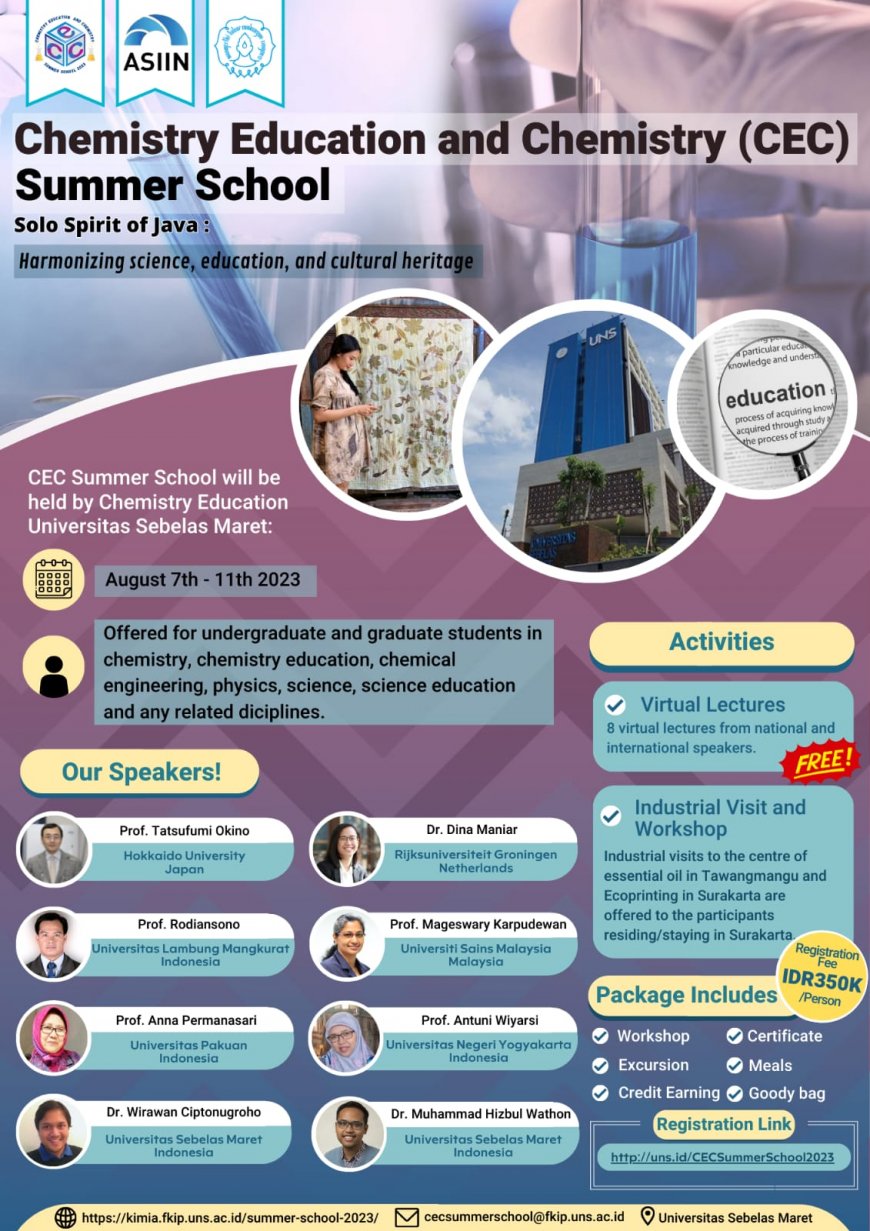 CHEMISTRY EDUCATION AND CHEMISTRY (CEC) SUMMER SCHOOL
Solo, Spirit of Java: Harmonizing Science, Education, and Cultural Heritage
CEC Summer School is an international short course organized by the Department of Chemistry Education, Faculty of Teacher Training and Education Universitas Sebelas Maret, Indonesia, aiming to integrate knowledge, technology, and culture.
Event Date: August 7th - 11th 2023
Event Activities:
1. Virtual Lectures (FREE)
2. Industrial Visit and Workshop (IDR 350K)
Our Speakers at Virtual Lectures:
Prof. Tatsufumi Okino
(Hokkaido University Japan)
Prof. Rodiansono
(Universitas Lambung Mangkurat Indonesia)
Prof. Anna Permanasari
(Universitas Pakuan Indonesia)
Dr. Wirawan Ciptonugroho
(Universitas Sebelas Maret Indonesia)
Dr. Dina Maniar
(Rijksuniversiteit Groningen Netherlands)
Prof. Mageswary Karpudewan
(Universiti Sains Malaysia Malaysia)
Prof. Antuni Wiyarsi
(Universitas Negeri Yogyakarta Indonesia)
Dr. Muhammad Hizbul Wathon
(Universitas Sebelas Maret Indonesia)
Offered for undergraduate and graduate students in chemistry, chemistry education, chemical engineering, physics, science, and any related disciplines
Registration Form:
http://uns.id/CECSummerSchool2023
Contact us
[email protected]
Further Information
https://kimia.fkip.uns.ac.id/summer-school-2023/
What's Your Reaction?