[Seminar | 15 Agustus 2023] Studying in Stanford University with LPDP Scholarship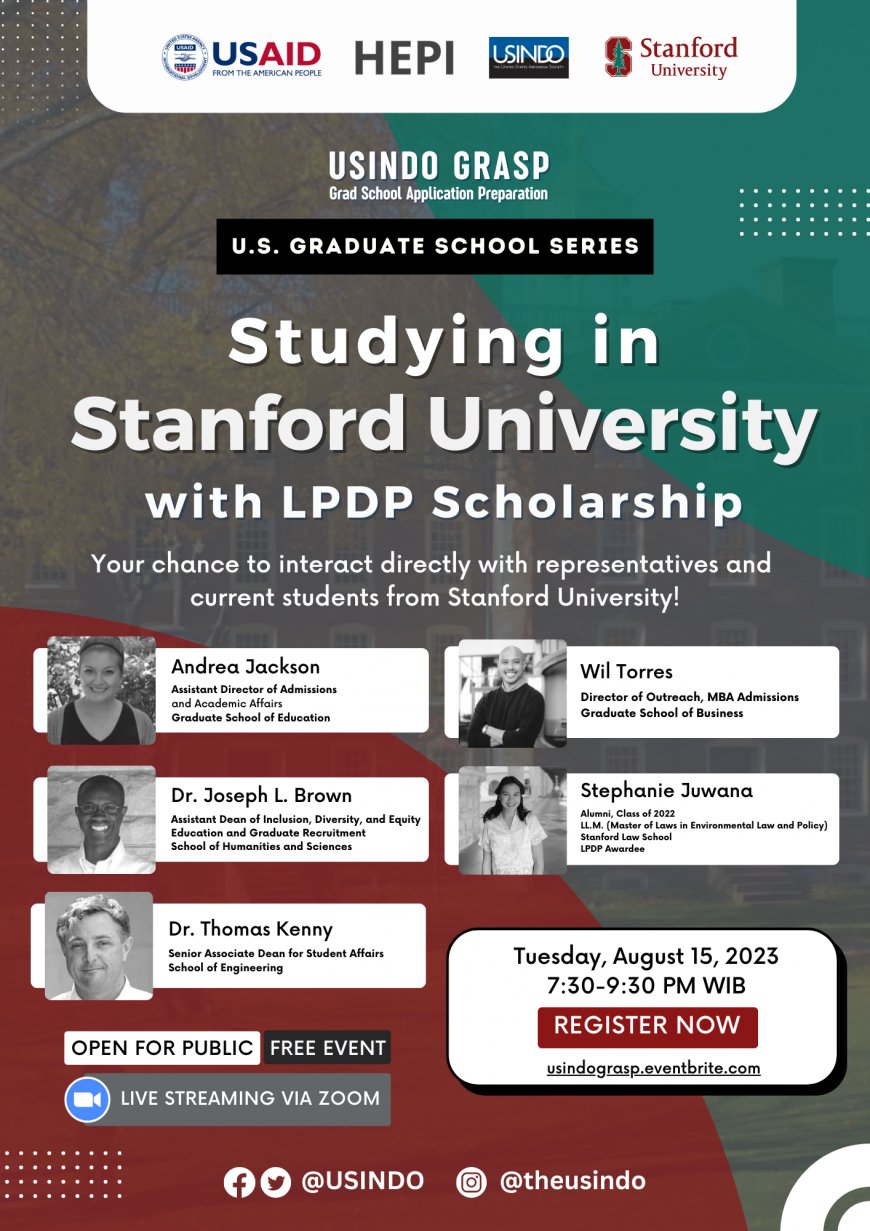 [Repost] Studying in Stanford University with LPDP Scholarship
Are you ready to take the first step toward an exceptional future? We are thrilled to invite you to an exclusive Interactive Zoom Session with Stanford University, where you'll have the opportunity to unlock the path to your dream education with the prestigious LPDP Scholarship!
Event Details:
Date: Tuesday, August 15, 2023
Time: 7.30 - 09.30 PM WIB
Location: Virtual Zoom Session
Speakers:
Andrea Jackson (Assistant Director of Admissions and Academic Affairs Graduate School of Education)
Dr. Joseph L. Brown (Assistant Dean of Inclusion, Diversity, and Equity Education and Graduate Recruitment, School of Humanities and Sciences)
Dr. Thomas Kenny (Senior Associate Dean for Student Affairs, School of Engineering)
Wil Torres (Director of Outreach, MBA Admissions, Graduate School of Business)
Stephanie Juwana (Alumni, Class of 2022, LL.M. (Master of Laws in Environmental Law and Policy), Stanford Law School, LPDP Awardee)
This is your chance to: Explore Stanford's world-class programs and groundbreaking research. Engage directly with Stanford's representatives and have all your questions answered. Learn about the application process and requirements for your desired program. Connect with fellow ambitious minds and form a strong academic network. Don't miss out on this invaluable opportunity to kickstart your journey to success. Secure your spot today by registering at the link below: registration
Whether you're a current student seeking advanced studies or a recent graduate aspiring for academic excellence, this event is tailor-made for you.
Join us on August 15th and set your course towards a brighter future with Stanford University!
What's Your Reaction?