[Kesempatan Emas | 25 September - 25 November 2023] Academic Innovation Day 2023 | Teknologi dan Inovasi Akademik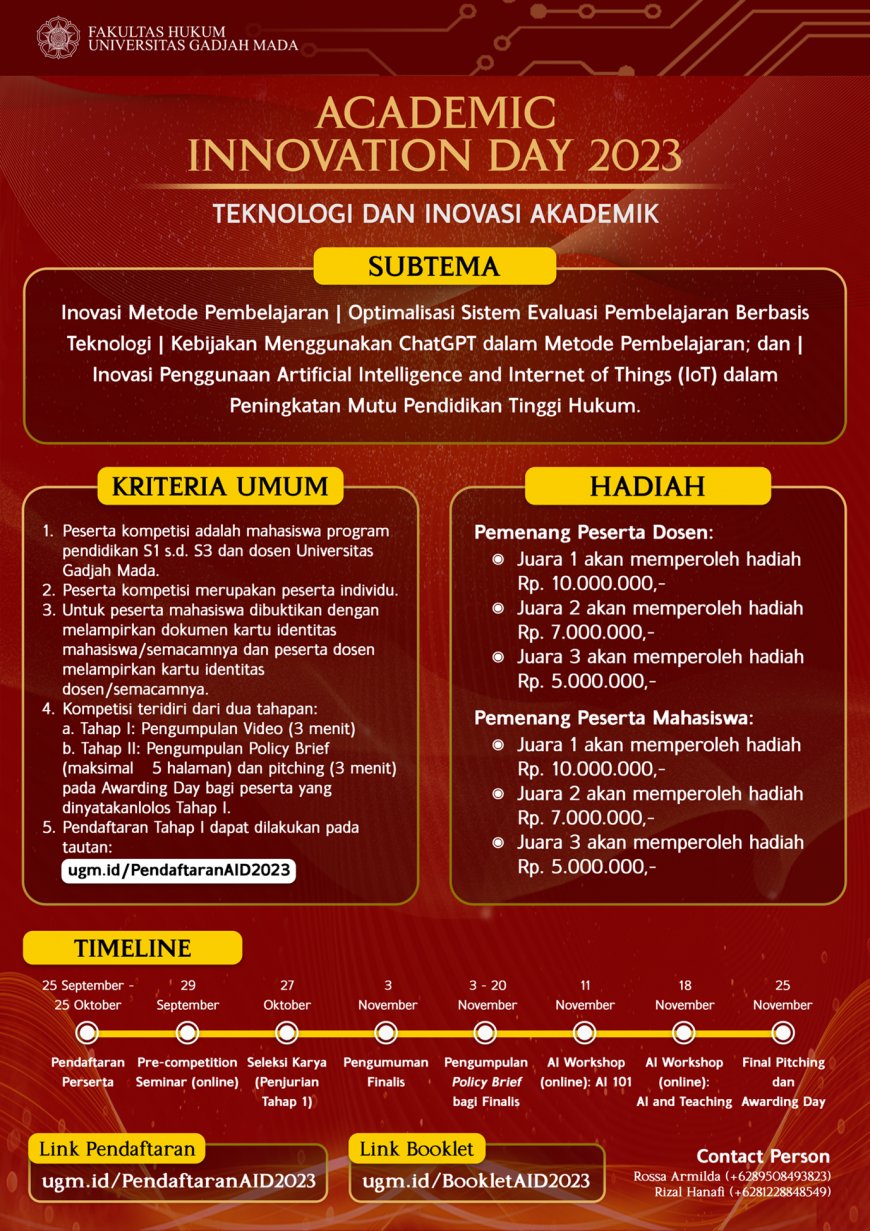 [Repost] Academic Innovation Day 2023 | Teknologi dan Inovasi Akademik
Subtema:
Inovasi metode pembelajaran
Optimasi sistem evaluasi pembelajaran berbasis teknologi
Kebijakan menggunakan ChatGPT dalam metode pembelajaran
Inovasi penggunaan artificial intelligence (AI) and internet of things (IoT) dalam peningkatan mutu pendidikan tinggi hukum
Kriteria Umum:
Peserta kompetisi adalah mahasiswa S1 hingga S3 dan dosen Universitas Gadjah Mada.
Peserta kompetisi merupakan peserta individu.
Melampirkan bukti atau dokumen berupa kartu identitas mahasiswa.
Kompetisi terdiri dari 2 tahap, yakni: Tahap I berupa pengumpulan video (3 menit) dan Tahap 2 berupa pengumpulan policy brief dan pitching
Timeline:
Pendaftaran peserta: 25 September - 25 Oktober 2023
Pre-competition seminar (online): 29 September 2023
Seleksi karya (penjurian tahap 1): 27 Oktober 2023
Pengumuman finalis: 3 November 2023
Pengumpulan policy brief bagi finalis: 3 - 20 November 2023
AI workshop (online) AI 101: 11 November 2023
AI workshop (online) AI and teaching: 18 November 2023
Final pitching dan awarding day: 25 November 2023
Informasi lebih lanjut:
What's Your Reaction?