[October 2022] ACB-ISBE 2022: Biotech for Stronger Recovery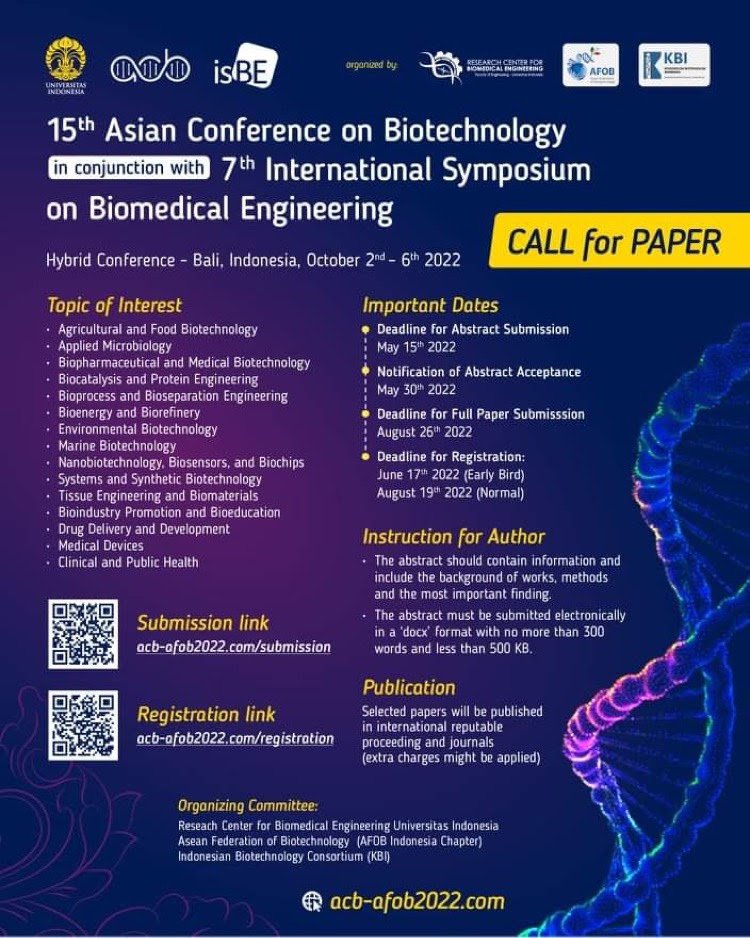 The ACB-ISBE 2022 aims to provide a platform for researchers and young scientists from around the world to present novel findings and discuss the future of biotechnology for 2022 and beyond. The conference will include a variety of important sessions ranging from applied microbiology, medical biotechnology, nanotechnology, biomaterials/regenerative medicine, synthetic biology, and more.

On behalf of the committee, we are cordially inviting all researchers, academicians, students, practitioners, and observers to join the ACB-ISBE 2022 to submit their manuscripts related to the topic of interest. The selected papers will be published on Scopus-indexed Journals and Proceedings.


The topic of interest includes, but is not limited to:
Agricultural and Food Biotechnology
Applied Microbiology
Biopharmaceutical and Medical Biotechnology
Biocatalysis and Protein Engineering
Bioprocess and Bioseparation Engineering
Bioenergy and Biorefinery
Environmental Biotechnology
Marine Biotechnology
Nanobiotechnology, Biosensors, and Biochips
Systems and Synthetic Biotechnology
Tissue Engineering and Biomaterials
Bioindustry Promotion and Bioeducation
Drugs Delivery and Development
Medical Devices
Clinical and Public Health

Important Dates
Deadline for Abstract Submission
May 15th, 2022
Notification of Abstract Acceptance
May 30th, 2022
Deadline for Full Paper Submission
August 26th, 2022
Deadline for Registration
June 17th, 2022 (Early Bird)
August 19th, 2022 (Normal)


Website: https://www.acb-afob2022.com/
Submission link (via EasyChair): https://easychair.org/conferences/?conf=acbisbe2022