[April 2022] Online Training Health Safety Environment (HSE)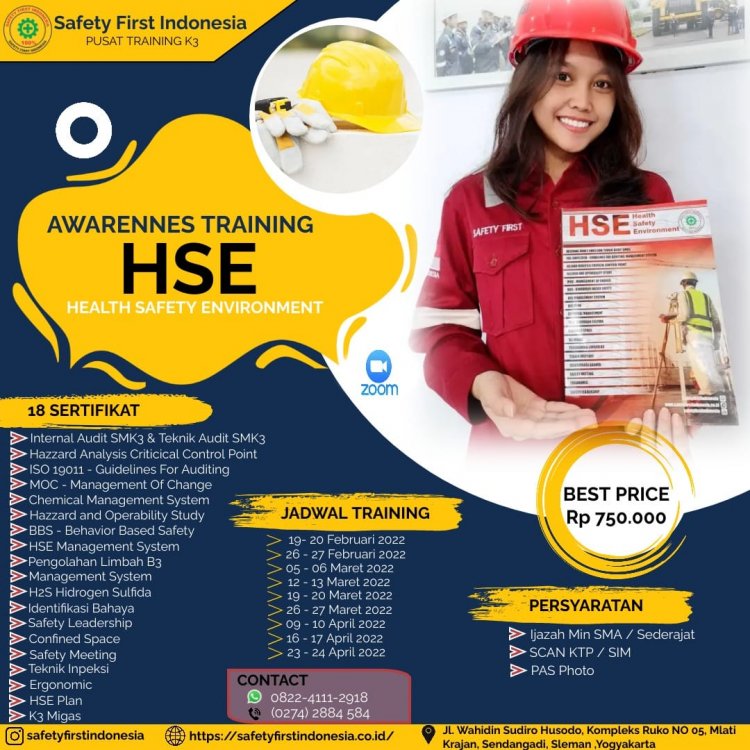 Online Training Health Safety Environment (HSE)
PESERTA AKAN MENDAPATKAN 18 LEMBAR HARDCOPY SERTIFIKAT TERDIRI :
INTERNAL AUDIT SMK3 DAN TEKNIK AUDIT SMK3
ISO 19011 : 2018 - GUIDELINES FOR AUDITING MANAGEMENT SYSTEM
HAZARD ANALYSIS CRITICAL CONTROL POINT
HAZARD AND OPERABILITY STUDY
MOC - MANAGEMENT OF CHANGE
BBS - BEHAVIOUR BASED SAFETY
HSE MANAGEMENT SYSTEM
HSE PLAN
CHEMICAL MANAGEMENT
H2S - HIDROGEN SULFIDA
CONFINED SPACE
K3 MIGAS
PENGOLAHAN LIMBAH B3
TEKNIK INSPEKSI
IDENTIFIKASI BAHAYA
SAFETY MEETING
ERGONOMIC
SAFETY LEADERSHIP
Pelatihan selama 2 hari, durasi pelatihan selama 8 jam, mulai pukul 08:00-17:00 WIB
SISTEM PELAKSANAAN ONLINE TRAINING:
1. BAGI PESERTA YANG INGIN MENGIKUTI ONLINE TRAINING INI, WAJIB MELAKUKAN DP SEBESAR Rp 350.000 , UNTUK PEMBAYARAN DP PALING LAMBAT 3 HARI SEBELUM PELAKSANAAN DAN PELUNASAN DILAKUKAN PADA HARI PERTAMA TRAINING
2. UNTUK PESERTA YANG MENGIKUTI ONLINE TRAINING INI WAJIB MEMILIKI APLIKASI ZOOM , SILAHKAN MENDOWNLOAD APLIKASI TERSEBUT, BISA MENGGUNAKAN HANDPHONE ATAU LAPTOP
3. UNTUK MATERI SOFTFILE AKAN KAMI KIRIMKAN KE GROUP WHATSAPP ONLINE TRAINING
4. UNTUK MODUL HARDCOPY DAN SERTIFIKAT NANTINYA AKAN KAMI KIRIMKAN KE MASING-MASING ALAMAT PESERTA PALING LAMBAT 3 HARI SETELAH PELAKSNAAN.
5. SEBELUM MELAKUKAM PENGIRIMAN NANTINYA KAMI AKAN MEMINTA ALAMAT TUJUAN KE MASING-MASING PESERTA
INFORMASI PEMBAYARAN
Untuk Pembayaran dapat dilakukan Via Transfer Ke Rekening A/n SAFETY FIRST INDONESIA BRI 1111-01-000267-561
APABILA SUDAH MELAKUKAN PEMBAYARAN BUKTI PEMBAYARAN DIKIRIM KE WHATSAPP KAMI
Berikut Untuk Persyaratan Training:
1. SCAN IJAZAH MINIMAL SLTA
2. SCAN KTP/SIM
3. SCAN Pas Foto (background merah)
4. SEMUA PERSYARATAN DAPAT DIKIRIM MELALUI VIA WHATSAPP DALAM BENTUK SCAN
INFORMASI PENDAFTARAN:
wa : 0822-4111-2918
ig : safetyfirstindonesia
What's Your Reaction?