[20,21,24 dan 25 Juli 2023] Guerrilla Marketing Online by Zoom with Coach Antonius Arif Certified Guerrilla Marketing Coach - GMC, USA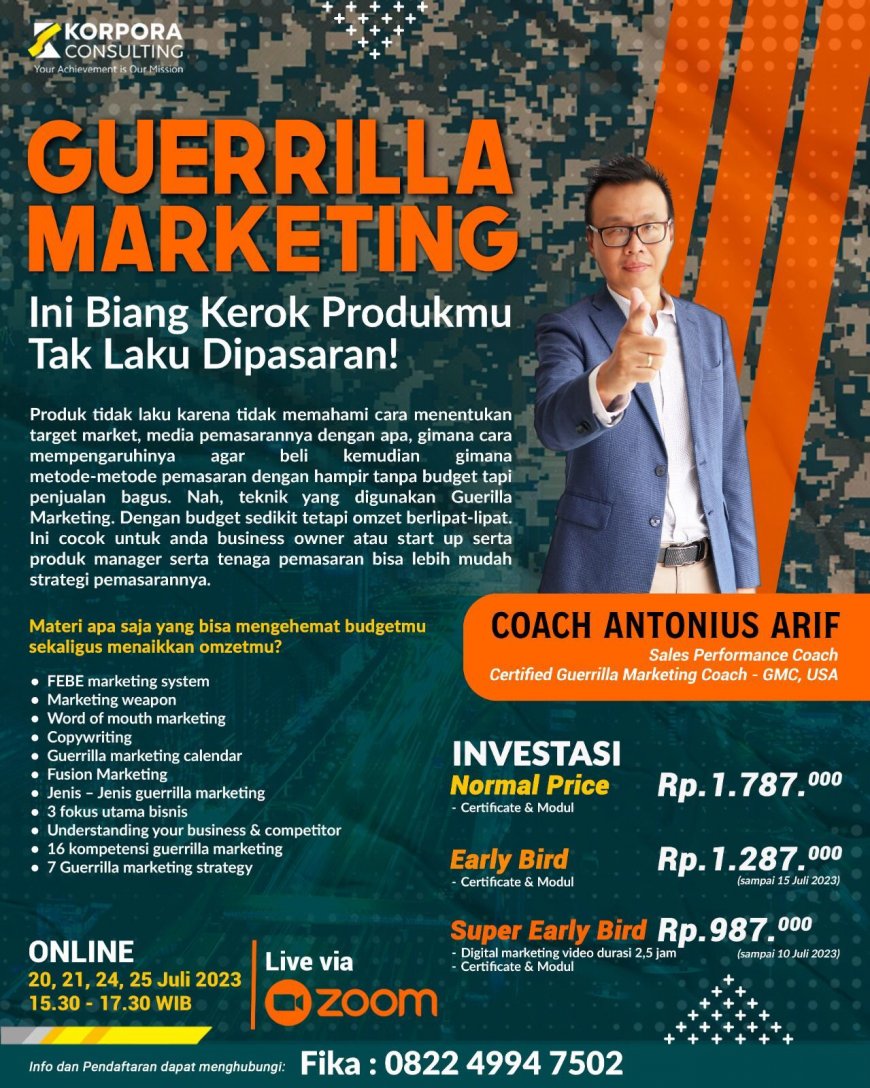 1 / 1
1. [20,21,24 dan 25 Juli 2023] Pelatihan Guerrilla Marketing
JANGAN BIARKAN BISNIS ANDA TENGGELAM HANYA KARENA MODAL PAS-PASAN.
Nyawa bisnis ditepi jurang karena modal pas-pas an?
Belum lagi strategi pemasaran masih konvensional dan kompetitor sliweran dimana-mana.
Terus gimana cara jualannya
Jika Anda merasa sudah melakukan strategi pemasaran dengan budget besar dan masih gagal sehingga tidak ada peningkatan penjualan atau bahkan produkmu tak laku dipasaran.
Ini strategi pemasaran untuk gandakan modal dan tingkatkan penjualan !!
Nah, teknik yang digunakan ialah Guerrilla Marketing. Strategi pemasaran ini mampu mengetahui ceruk pasar dan membuat produkmu berbeda dengan kompetitor.
Ini cocok untuk Anda Business Owner, Start Up, Produk Manager atau Tenaga Pemasaran agar lebih mudah memilih strategi untuk meraup omset tinggi.
Yang peserta dapatkan :
• Jenis – Jenis guerrilla marketing
• 3 fokus utama bisnis
• Understanding your business & competitor
• 16 kompetensi guerrilla marketing
• 7 Guerrilla marketing strategy
• FEBE marketing system
• Marketing weapon
• Word of mouth marketing
• Copywriting
• Guerrilla marketing calendar
• Fusion Marketing
Siapa Pengajarnya:
Coach Antonius Arif seorang Sales Performance Coach yang telah berkecimpung di dunia penjualan selama 15 tahun dari posisi bawah hingga Sales Director. Mendapatkan penghargaan 3x Top Achiever award 2004, 2005, 2006 dan Marketer to watch 2006 dari Majalah SWA. Serta telah belajar dengan pakar Sales Dunia Krish Dhanam, Victor Antonio, Dr Richard Bandler, Kevin Hogan, Alex Mandosian, Mitch Meyerson, Imparta, dll.
Catat waktunya ya:
20,21,24 dan 25 Juli 2023
15.30 s.d 17.30 WIB
Zoom Meeting
Pasti Pada Penasaran kan Untuk Investasi yang akan kita bayarkan dari Materi yang
KEREN ini.
▪️Normal Rp. 1.787.000
▪️Early Bird Rp. 1.287.000 (Sampai 15 Juli 2023)
▪️Super Early Bird Rp. 987.000 (Sampai 10 Juli 2023)
Bonus:
- Video Digital Marketing Durasi 2,5 Jam senilai Rp. 399.000
- E-book 10 Ide Guerrilla Marketing senilai Rp. 99.000
- Diskusi Seumur Hidup dengan Coach Korpora Consulting senilai Rp. 10.000.000
- Free seat dikelas yang sama seumur hidup
Daftar sekarang juga atau menyesal kemudian, hubungi: https://PendaftaranTrainingFika.wasap.my
What's Your Reaction?