[May 6-7, 2023] 1st INTERNATIONAL CONFERENCE ON ECONOMIC ISSUES (ICONES) 2023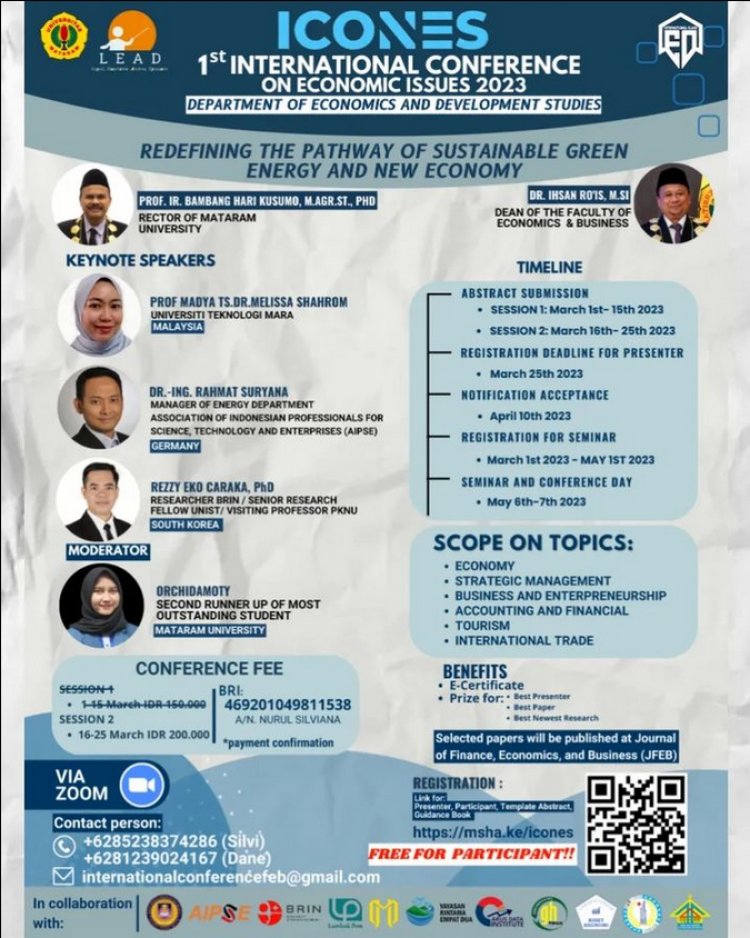 1st INTERNATIONAL CONFERENCE ON ECONOMIC ISSUES (ICONES) 2023



The International Conference on Economic Issues (CONES) is an excellent platform for bringing up experts from a broad spectrum of disciplines, among economists, researchers, academics, policymakers, and practitioners across regions and countries, together for discussions and brainstorms on the most pressing economic issues that affect the global and local economies.
Redefining the Pathway to Sustainable Green Energy and New Economy
We are delighted to announce that our International Conference on Faculty Economic and Business, University of Mataram, will be held on 6-7 May 2023.
KEYNOTE SPEAKERS
Prof. Madya Ts.Dr. Melissa Shahrom
(University Teknologi Mara
Malaysia)
Dr.-ING. Rahmat Suryana
(Manager of Energy Department - AIPSE Germany)
Rezzy Eko Caraka. PhD
(Researcher BRIN / Senior Researcher Fellow UNIST/ Visiting Profesor PKNU South Korea)
The Seminar and Conference will be conducted via ZOOM❗️❗️❗️
ABSTRACT SUBMISSION
Session 1: March 1st- 15th, 2023 (END)
Session 2: March 16th- 25th, 2023
FREE FOR PARTICIPANT
Link For Presenter, Participant, and Abstract Template
https://msha.ke/icones
*Selected Papers will be published at the Journal of Finance, Economics and Business*
For more information, contact
1. +6281239024167 (Dane)
2. +6285238374286 (Silvi)
email: [email protected]
What's Your Reaction?