[Seminar Nasional | 19 - 20 Oktober 2023] Seminar Nasional PBBMI XXVI 2023 dan Kongres PBBMI XIII 2023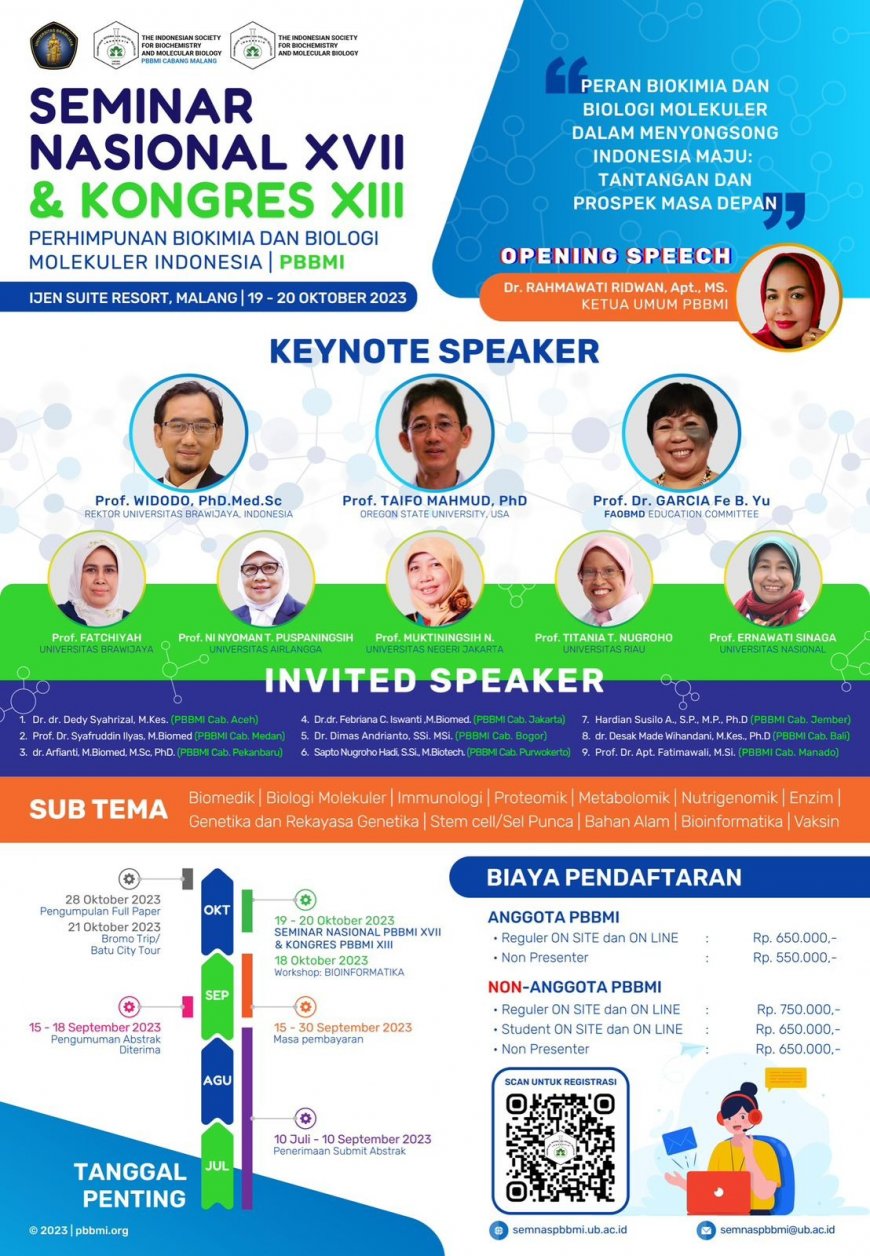 [Repost] Seminar Nasional PBBMI XXVI 2023 dan Kongres PBBMI XIII 2023 | Peran Biokimia dan Biologi Molekuler dalam Menyongsong Indonesia Maju: Tantangan dan Prospek Masa Depan
Keynote Speakers:
Prof. Widodo (Universitas Brawijaya - Indonesia)
Prof. Taifo Mahmud (Oregon State University - USA)
Prof. Garcia Fe B. Yu (University of the Phillippines - Phillippines)
Invited Speakers:
Prof. Fatchiyah (Universitas Brawijaya - Indonesia)
Prof. Ni Nyoman Tri Puspaningsih (Universitas Airlangga - Indonesia)
Prof. Muktiningsih Nurjayadi (Universitas Negeri Jakarta - Indonesia)
Prof. Titania Tjandrawati Nugroho (Universitas Riau - Indonesia)
Prof. Ernawati Sinaga (Universitas Nasional - Indonesia)
Prof. Fatimawali (PBBMI Manado)
Prof. Dr. Drs. Syafruddin Ilyas (PBBMI Medan)
Dr. dr. Arfianti, Ph.D. (PBBMI Pekanbaru)
Dr. dr. Febriana Catur Iswanti, M.Biomed. (PBBMI Jakarta)
Sapto Nugroho Hadi, M.Sc. (PBBMI Purwokerto)
Hardian Susilo Addy, S.P., M.P., Ph.D. (PBBMI Jember)
Dr. dr. Desak Made Wihandani (PBBMi Bali)
Dr. dr. Dedy Syahrizal (PBBMI Aceh)
Dr. Dimas Andrianto SSi. MSi. (PBBMI Bogor)
Subtopics:
Biologi Medik
Biologi Molekuler
Genetika Dan Rekayasa Genetik
Immunologi
Proteomik
Metabolomik
Nutrigenomik
Stem Cell/Sel Punca
Bahan Alam
Bioinformatika
Enzim
Vaksin
Publikasi:
Full Paper terpilih, akan dipublikasikan pada:
Jurnal Kedokteran Brawijaya (Sinta 2)
Biotropika (Sinta 3)
Jurnal Acta Biochimia Indonesiana (Sinta 4)
Pharamaceutical Jurnal Indonesia
Tanggal Penting:
Pembukaan abstrak: 19 Juni-30 September 2023
Pengumuman abstrak diterima: 1-2 Oktober 2023
Seminar nasional: 19-20 Oktober 2023
Workshop (Bioinformatika): 18 Oktober 2023
Ekskursi: 21 Oktober 2023
Pengumpulan full paper: 30 Oktober 2023
Registrasi:
What's Your Reaction?