[3-4 November 2023] SRIWIJAYA INTERNATIONAL CONFERENCE ON BASIC AND APPLIED SCIENCES 2023 (SICBAS 2023)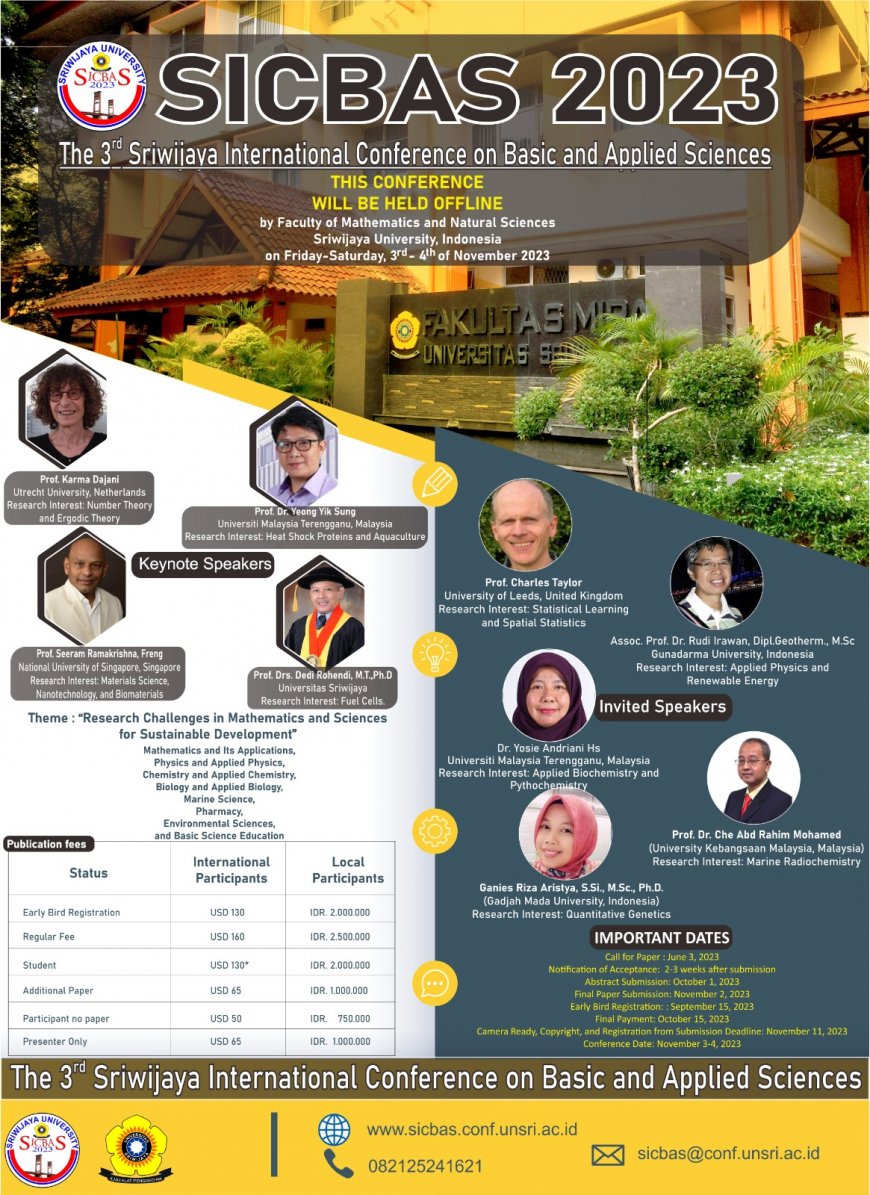 SICBAS 2023 
CALL FOR PAPERS
SRIWIJAYA INTERNATIONAL CONFERENCE ON BASIC AND APPLIED SCIENCES 2023 (SICBAS 2023)
Offline Conference, November 3-4, 2023 
Dear respected colleagues,
We are pleased to invite you to participate in the SICBAS 2023, that will be held offline at Beston Hotel Palembang, Indonesia, on November 3-4, 2023. 
The 3rd SICBAS 2023 is the third conference organized by the Faculty of Mathematics and Natural Sciences, Sriwijaya University Indonesia. 
This year's theme is "Research Challenges in Mathematics and Sciences for Sustainable Development".
Keynote Speakers:
1. Prof. Karma Dajani (Department of Mathematics, Universiteit Utrecht Netherland)
2. Prof. Seeram Ramakrishna, FREng (National University of Singapore, Nanoscience and Nanotechnology Initiative, Singapore)
3. Prof. Dr. Yeong Yik Sung (Institute of Marine Biotechnology, University of Malaysia Terengganu)
4. Prof. Drs. Dedi Rohendi, M.T, Ph.D (Department of Chemistry, Sriwijaya University)
Invited Speakers:
1. Prof. Charles Taylor (School of Mathematics, University of Leeds, United Kingdom)
2. Assoc. Prof. Dr. Rudi Irawan, Dipl. Geotherm., M.Sc (Department of Mechanical Engineering, Gunadarma University, Indonesia)
3. Ganies Riza Aristya, S.Si., M.Sc., Ph.D (Department of Biology, University of Gadjah Mada, Indonesia)
4. Prof. Dr. Che Abd Rahim Mohamed (Fakulti Sains dan Teknologi, Universiti Kebangsaan Malaysia)
5. Dr. Yosie Andriani, HS (Institute of Marine Biotechnology, University Malaysia Terengganu)
Important Dates:
Call for Paper: June 3, 2023
Notification of Acceptance: 2-3 weeks after submission
Abstract Submission: October 1, 2023
Final Paper Submission: November 2, 2023
Early Bird Registration: September 15, 2023
Final Payment: October 15, 2023
Conference Dates: November 3, 2023
The proceeding will be published in the European Alliance for Innovation (EAI).
Registration: https://confgate.net/2023/sicbas/kfz/
For more information, please visit http://sicbas.conf.unsri.ac.id/
Best Regards,
The 3rd SICBAS 2023 Committees
What's Your Reaction?