[15 Juni 2023] Research in Military Medicine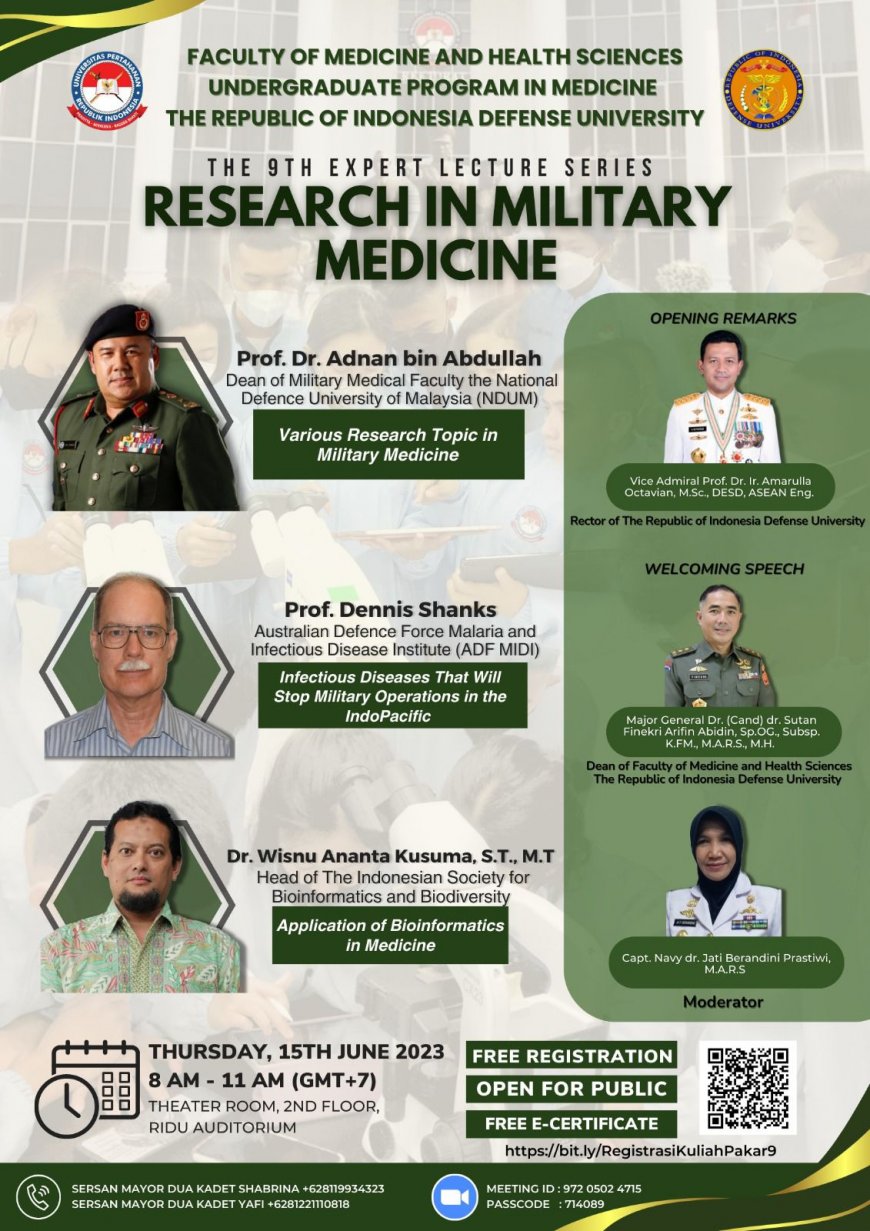 [KULIAH PAKAR SERI 9 TAHUN 2023 PROGRAM STUDI SARJANA KEDOKTERAN FKIK UNHAN RI]
Salam Bela Negara!
Riset kedokteran militer merupakan bidang penelitian yang berfokus pada kesehatan dan kesejahteraan personel militer serta pemahaman terhadap kondisi medis dan trauma yang khusus terkait dengan lingkungan dan tugas militer. Riset ini bertujuan untuk meningkatkan penanganan medis di medan tempur, mengembangkan strategi pencegahan dan pengobatan yang efektif, serta memperoleh pemahaman yang lebih baik tentang faktor risiko dan dampak kesehatan yang spesifik terkait dengan tugas militer. Penelitian kedokteran militer penting dalam menyediakan informasi dan teknologi medis terkini kepada personel militer, yang dapat meningkatkan keselamatan, efektivitas, dan kualitas perawatan kesehatan di lingkungan militer.
Untuk itu, Prodi Sarjana Kedokteran Fakultas Kedokteran dan Ilmu Kesehatan Universitas Pertahanan Republik Indonesia dengan bangga mempersembahkan kuliah pakar yang bertemakan
"Research in Military Medicine"
Opening remarks :
Laksamana Madya TNI Prof. Dr. Ir. Amarulla Octavian, S.T., M.Sc., DESD, ASEAN Eng. selaku Rektor Universitas Pertahanan Republik Indonesia
Welcoming speech :
Mayor Jenderal TNI Dr. (Cand) dr. Sutan Finekri A. Abidin, Sp.OG., Subsp. K.FM., M.A.R.S., M.H. selaku Dekan FKIK Universitas Pertahanan Republik Indonesia
Speakers :
1. Prof. Dr. Adnan Bin Abdullah,
Dean of Military Medical Faculty the National Defence University of Malaysia UPNM dengan topik "Various Research Topic in Military Medicine"
2. Prof. Dennis Shanks, MD,
Australian Defence Force Malaria and Infectious Disease Institute (ADF MIDI) dengan topik "Infectious Diseases That Will Stop Military Operations in the Indo-Pacific"
3. Dr. Wisnu Ananta Kusuma, ST, MT,
Ketua Masyarakat Bioinformatika dan Biodiversitas Indonesia (MABBI), Dosen Departemen Ilmu Komputer IPB dengan topik "Application of Bioinformatics in Medicine"
Moderator :
Komandan Rumah Sakit Marinir Cilandak (Damrumkit RSMC) Kolonel Laut (K/W) dr.Jati Berandini Prastiwi,MARS.
Kegiatan ini akan diselenggarakan pada:
Day/Date: Kamis, 15 Juni 2023
⏰ Time : 08.00 - 11.00 WIB
Location : Zoom Cloud Meeting
https://zoom.us/j/97205024715?pwd=aCtEN0FZYXFpUmxqMkFxbVdWYVFFUT09
Meeting ID: 972 0502 4715
Passcode: 714089
GRATIS dan TERBUKA UNTUK UMUM.
Segera daftarkan diri Anda di:
https://bit.ly/RegistrasiKuliahPakar9
Grup Whatsapp:
https://chat.whatsapp.com/Iv1iw1qkKPB6K5r8iBfiMW
Contact Person :
Sersan Mayor Dua Kadet Shabrina +628119934323
Sersan Mayor Dua Kadet Yafi +6281221110818
What's Your Reaction?