[Kesempatan Emas | 17 - 28 Juli 2023] Summer Course VU Amsterdam – Universitas Gadjah Mada 2023 | The Empire Writes Back's Revisited: Imagination, (Post)colonial and Transnational Dialogues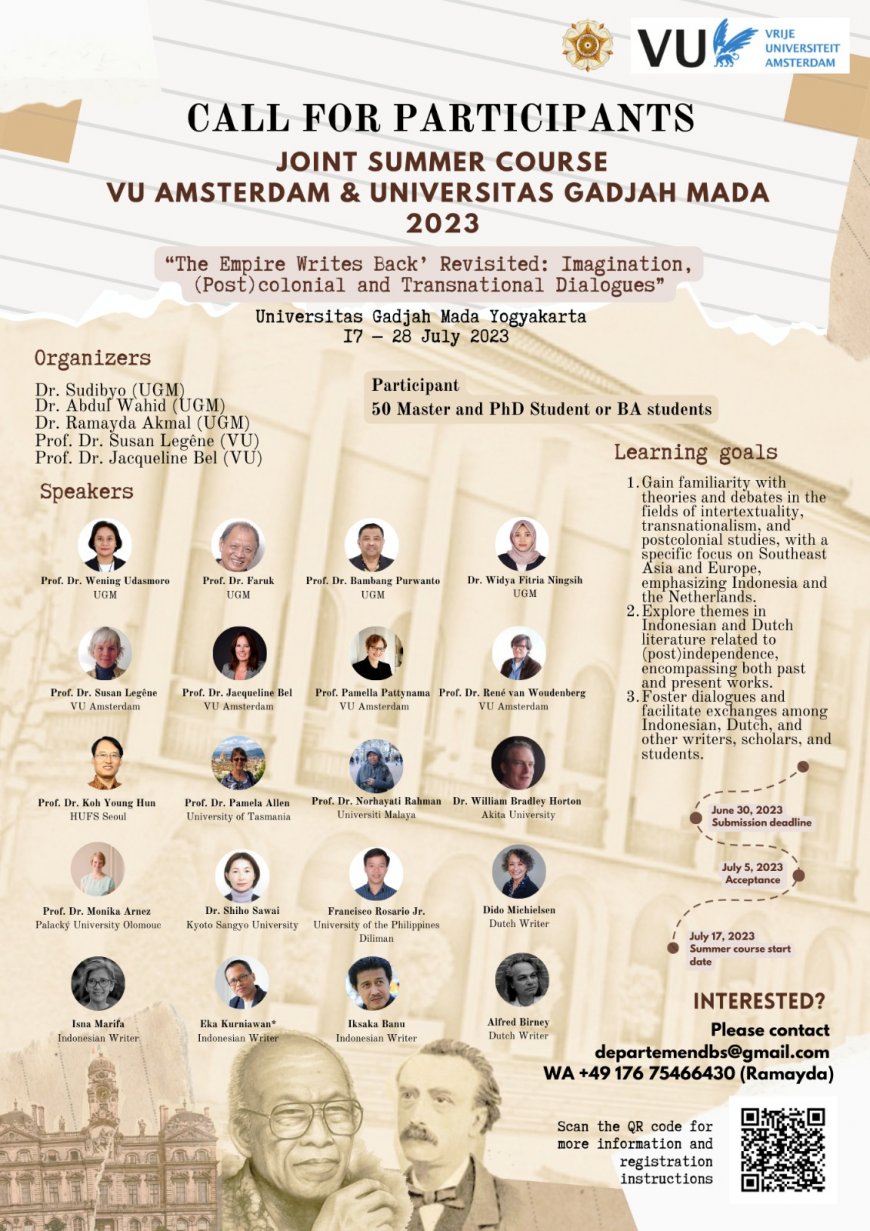 [Repost] Summer Course VU Amsterdam – Universitas Gadjah Mada 2023 | The Empire Writes Back's Revisited: Imagination, (Post)colonial and Transnational Dialogues
Fakultas Ilmu Budaya UGM, khususnya Departemen Bahasa dan Sastra bekerja sama dengan Faculty of Humanities, Vrije Universiteit Amsterdam akan mengadakan summer course bertema "The Empire Writes Back's Revisited: Imagination, (Post)colonial and Transnational Dialogues" pada 17-28 Juli 2023.
Tujuan utama summer course ini antara lain:
Memperkenalkan dan mengaplikasikan teori dan dialog pascakolonialisme dan transnasionalisme dengan fokus khusus pada Indonesia dan Belanda;
Menguraikan, menganalisis dan mendiskusikan berbagai karya sastra pascakolonial dari Indonesia dan Belanda;
Menyediakan dan mempromosikan ruang untuk dialog yang setara antara penulis dan peneliti dari Indonesia, Belanda dan dari berbagai negara lain.
Memperkenalkan UGM sebagai pusat pengetahuan pascakolonial dari Global South dan mengembangkan jejaring secara internasional.
Selama dua minggu, peserta akan mengikuti program yang meliputi kuliah, diskusi, dan kuliah lapangan.
Pengajar, peneliti sastra, sastrawan dan filmmaker terlibat dalam program-program ini diantaranya:
Prof. Dr. Wening Udasmoro, DEA,
Prof. Dr. Bambang Purwanto,
Prof. Dr. Jacqueline Bell,
Prof. Dr. Susan Legêne
Prof. Dr. Pamela Allen,
Prof. Dr. Monika Arnez,
Prof. Dr. Koh Young Hun,
Dido Michielsen,
Iksaka Banu,
Isna Marifa,
Eka Kurniawan dan lain-lain.
Summer course ini diadakan secara hybrid di Fakultas Ilmu Budaya UGM dan terbuka bagi mahasiswa S1, S2, dan S3 dari UGM, VU-Amsterdam dan universitas lain di seluruh dunia yang memenuhi syarat pendaftaran. Summer course ini bisa dikonversi sebanyak 3 SKS. Deadline pendaftaran peserta adalah 30 Juni 2023.
Adapun form registrasi, program dan poster dapat diakses pada tautan berikut: http://ugm.id/SummerCourseFIBUGM23.
Untuk informasi lebih lanjut hubungi: bahasadansastra[email protected] atau melalui WhatsApp Ramayda (+4917675466430).
What's Your Reaction?