[22 & 23 Juli 2023] Training Supervisor Skill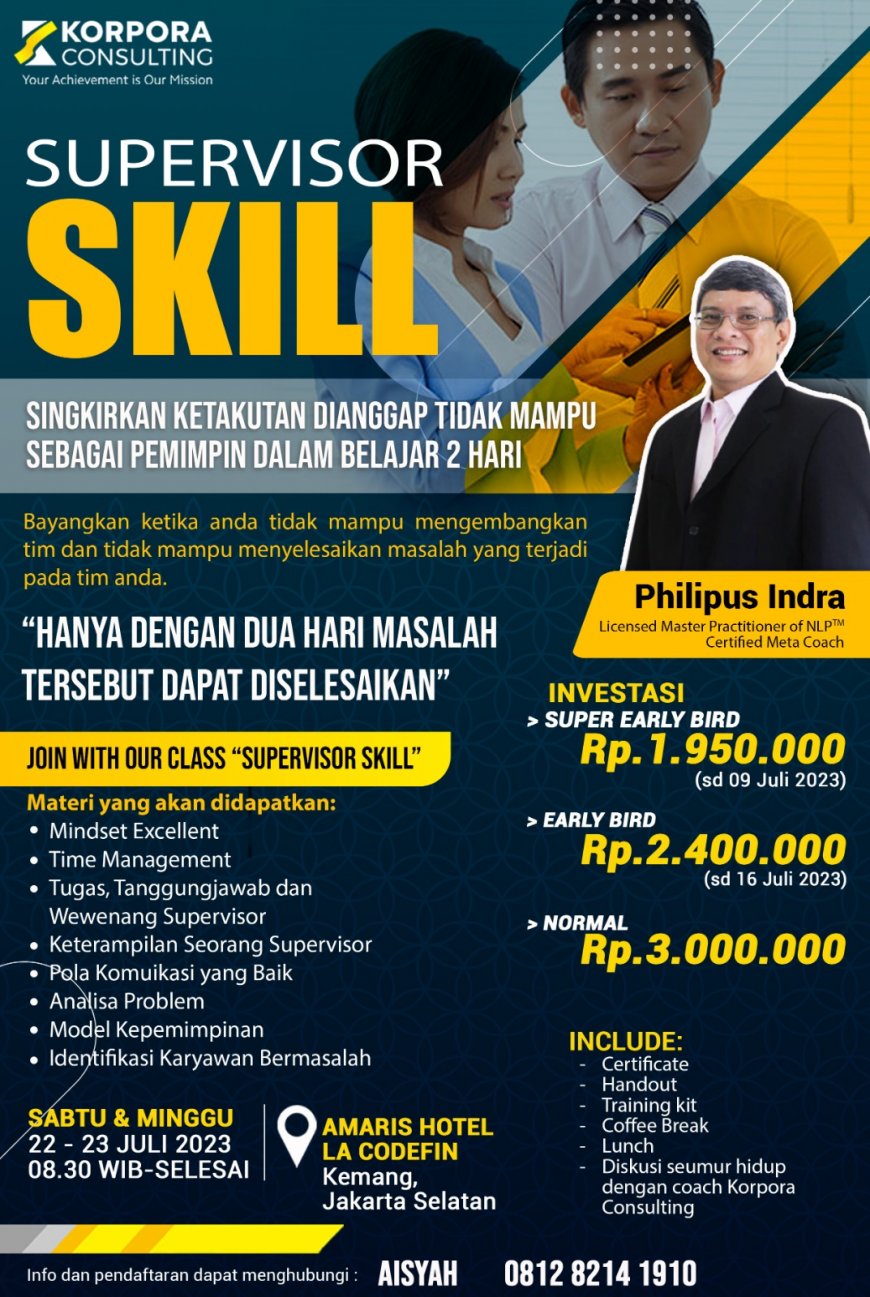 DORONG KINERJA TIM ANDA UNTUK MANAJEMEN YANG EFISIEN!!
Sadar gak sih kalau kemampuan mengelola tim secara efektif merupakan aspek krusial dalam kepemimpinan?
Padahal mengelola tim dengan sempurna bukanlah sekadar kemampuan tambahan, melainkan pondasi esensial bagi kesuksesan kepemimpinan.
Seorang pemimpin yang handal harusnya memiliki kemampuan komunikasi yang baik, mampu memimpin, serta mengindentifikasi problem yang terjadi dan memberikan solusi.
Nah penasaran kan bagaimana sih menjadi pemimpin yang di idam-idamkan? Mau tahu caranya? Join with our class "Supervisor Skill"
Materi yang dipelajari:
■ Mindset Excellent
■ Tugas, Tanggungjawab, dan Wewenang Supervisor
■ Keterampilan Seorang Supervisor
■ Pola Komunikasi Yang Baik
■ Analisa Problem untuk Mencapai Goals
■ Model Kepemimpinan
■ Identifikasi Karyawan Bermasalah
Pengajarnya:
Coach Philipus Indra
Licensed Master Practicioner of NLPᵀᴹ
Certified Meta Coach
Tanggal Pelaksanaan:
Sabtu dan Minggu
22 & 23 Juli 2023
⏰Waktu:
08.30 – selesai
Lokasi:
Amaris Hotel La Codefin
Jakarta Selatan
Investasi:
Normal Price
Rp. 3.900.000
Super Early bird
Rp. 1.950.000 (sebelum 9 Juli)
Early bird
Rp. 2.400.000 (sebelum 16 Juli)
✨Include :
- Certificate
- Modul
- Training Kit
- Coffee Break
- Lunch
- Akses diskusi seumur hidup dengan Coach Korpora Consulting
Info lebih lanjut hubungi:
https://PendaftaranTrainingAisyah.wasap.my
What's Your Reaction?