[29 & 30 Juli 2023] Training NLP Spiritual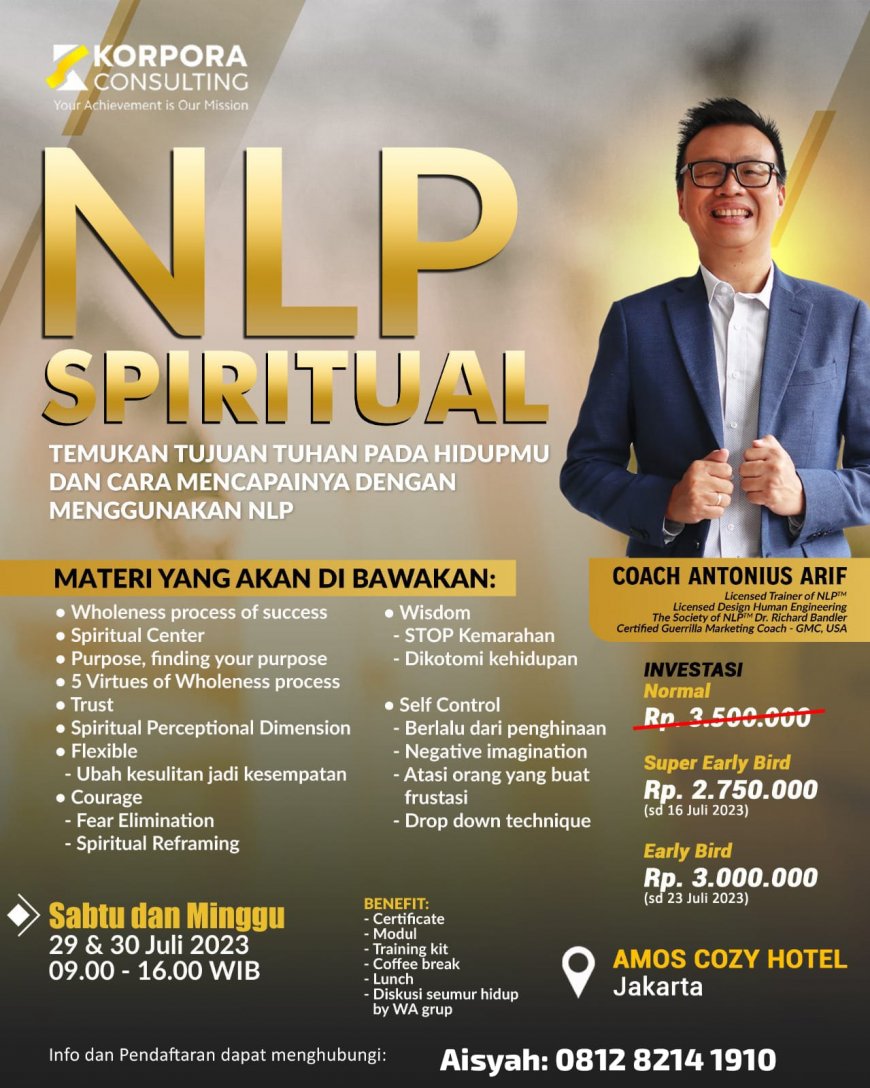 Mungkin Bukan Tidak Berhasil Tapi Ada Yang Tidak sesuai Langkah Yang Kita Ambil
Pernahkah terlintas dipikiran kamu, siapa diri kita yang sesungguhnya di mata Tuhan?
Sebenarnya dengan mengetahui jati diri, kita bisa lebih mudah dalam menghadapi masalah apapun itu loh..
Waktu ketika kita lahir, kita sudah dirancang Tuhan untuk Berhasil. Tetapi ketika hidup di dunia, ada saja sesuatu hal yang membohongi kita dengan fakta dunia.
Kamu pasti bingung kenapa ini bisa terjadi...
Bagaimana jika kamu bisa temukan jati diri dan tujuan hidupmu untuk mencapai keberhasilan dengan cara yang diinginkan Tuhan. Menarik?
Tunggu apalagi join with our class melalui pelatihan NLP Spiritual
Materi yang akan dibawakan:
✅Wholeness process of success
✅Spiritual Center
✅Purpose, finding your purpose
✅5 Virtues of Wholeness process
✅Trust
✅Spiritual Perceptional Dimension
✔️Flexible
Ubah kesulitan jadi kesempatan
✔️Courage
-Fear Elimination
-Spiritual Reframing
✔️Wisdom
-STOP Kemarahan
-Dikotomi kehidupan
✔️Self Control
-Berlalu dari penghinaan
-Negative imagination
-Atasi orang yang buat frustasi
-Drop down technique
Siapa pengajarnya:
Coach Antonius Arif. Licensed Trainer of NLPᵀᴹ dari Dr Richard Bandler (Father of NLPᵀᴹ)
Kapan:
Sabtu dan Minggu
29 - 30 Juli 2023
Pukul:
09.00 - 16.00
Lokasi:
Amos Cozy Hotel
Jakarta Selatan
Investasi:
Normal
Rp. 3.500.000
Early Bird
Rp. 3.000.000 (sd 23 Juli)
Super Early Bird
Rp. 2.750.000 (sd 16 Juli)
Benefit :
• Certificate
• Modul
• Training kit
• Coffee Break
• Lunch
• Akses diskusi seumur hidup dengan Coach Antonius Arif
Info dan Pendaftaran dapat menghubungi:
https://PendaftaranTrainingAisyah.wasap.my
What's Your Reaction?