[Mei 2022] License NLP Business Practitioner Certification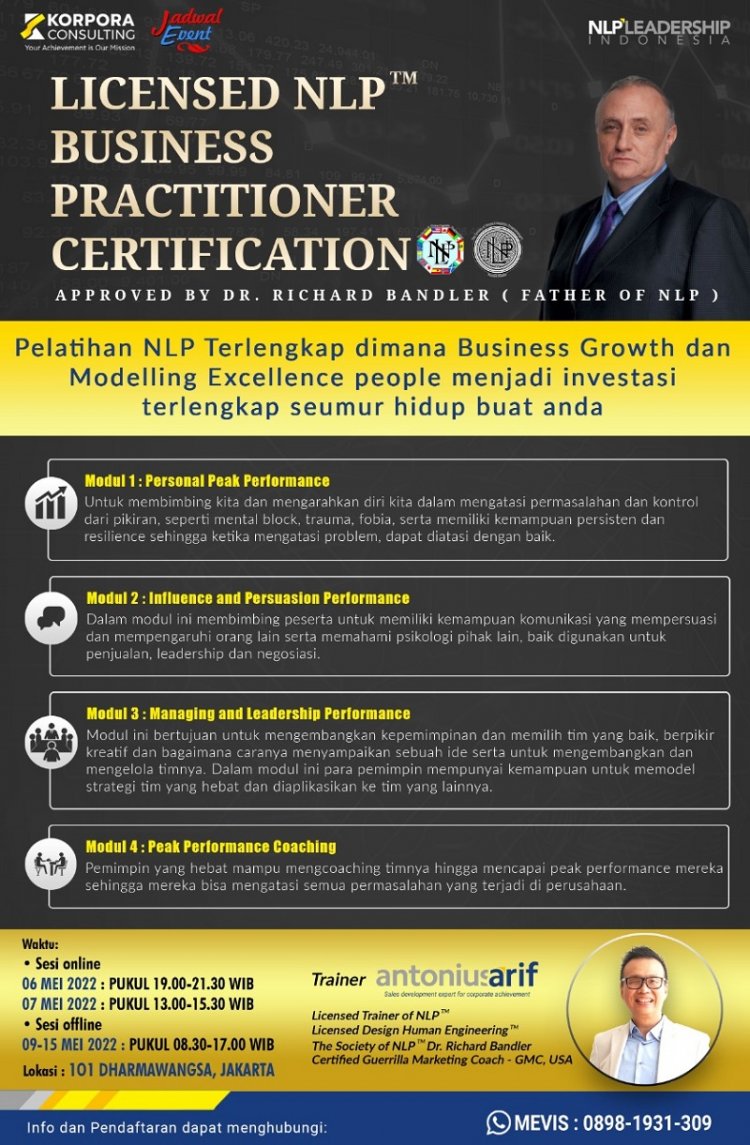 License NLP Business Practitioner Certification
Pelatihan Licensed NLPᵀᴹ Business Practitioner Certification approved by Dr Richard Bandler adalah pelatihan NLPᵀᴹ Terlengkap dimana Business Growth dan Modelling Excellence people menjadi investasi terlengkap seumur hidup buat anda
Pelatihan ini cocok untuk para business owner, wirausaha, Manager dan Business Coach and Consultant serta Business Development dan Sales Profesional dalam meningkatkan kemampuan level tertinggi scaling up dan Growing kesuksesan bisnis anda dan klien anda. Program ini terdiri menjadi 4 modul.
Modul 1 Personal Peak Performance :
Untuk membimbing kita dan mengarahkan diri kita dalam mengatasi permasalahan dan kontrol dari pikiran, seperti mental block, trauma, fobia, serta memiliki kemampuan persisten dan resilience sehingga ketika mengatasi problem, dapat diatasi dengan baik.
Modul 2 Influence and Persuasion Performance :
Dalam modul ini membimbing peserta untuk memiliki kemampuan komunikasi yang mempersuasi dan mempengaruhi orang lain serta memahami psikologi pihak lain, baik digunakan untuk penjualan, leadership dan negosiasi.
Modul 3 Managing and Leadership Performance :
Modul ini bertujuan untuk mengembangkan kepemimpinan dan memilih tim yang baik, berpikir kreatif dan bagaimana caranya menyampaikan sebuah ide serta untuk mengembangkan dan mengelola timnya. Dalam modul ini para pemimpin mempunyai kemampuan untuk memodel strategi tim yang hebat dan diaplikasikan ke tim yang lainnya.
Modul 4 Peak Performance Coaching :
Pemimpin yang hebat mampu mengcoaching timnya hingga mencapai peak performance mereka sehingga mereka bisa mengatasi semua permasalahan yang terjadi di perusahaan.
Tunggu apalagi. segera lejitkan performa diri dan bisnismu!
Tanggal dan waktu:
Sesi Online

6 Mei 2022 pukul 19.00-21.30
7 Mei 2022 pukul 13.00-15.30

Sesi Offline

9 – 15 Mei 2022 pukul 08.30-17.00
Lokasi:
101 Dharmawangsa Jakarta
Siapa Pembicaranya?
Antonius Arif,
(Licensed Trainer of NLPᵀᴹ, Licensed DHEᵀᴹ, Certified Guerrilla Marketing Coach, GMC-USA)
Untuk Info lebih lanjut dapat menghubungi sales kami :
https://pendaftarantrainingmevis.wasap.my/
What's Your Reaction?