[4-6 Agustus 2023] Mini Bootcamp: Legal Officer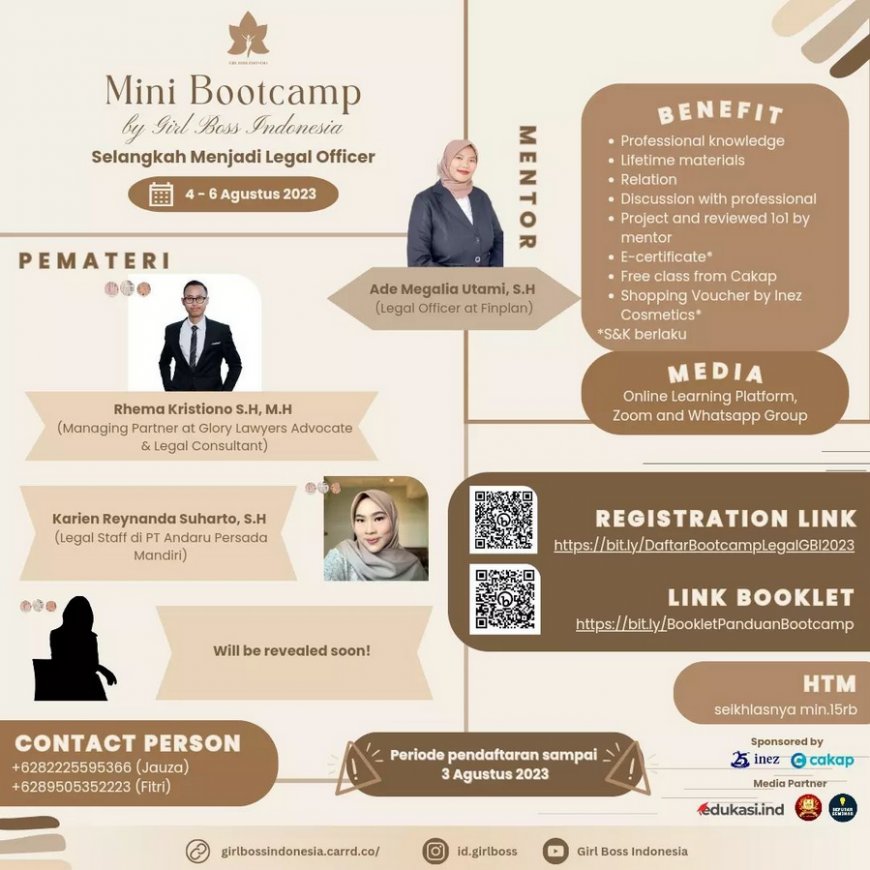 Mini Bootcamp by Girl Boss Indonesia: Selangkah menjadi Legal Officer
Hai, girlies. Ada yang tau legal officer ga?
Minlies kasih tau ya. Legal officer adalah sebuah peran didalam perusahaan yang mengurus seluruh permasalahan legal. Contohnya operasional bisnis, pengembangan produk bahkan ketentuan penggunaan produk yang akan diluncurkan.
Timeline:
Tanggal: 4-6 Agustus 2023
Online learning platform, Zoom Meeting and whatsapp group HTM: seiklasnya *minim 15k
Benefit:
1. Professional knowledge
2. Lifetime material
3. Relation
4. Discussion with professional
5. Project and reviewed 1o1 by mentor
6. E-certificate*
7. Free class from Cakap
8. Shopping voucher by Inez Cosmetic*
*S&K berlaku
Untuk pendaftar tercepat bakalan dapet hadiah, loh. So, jangan sampai ketinggalan ya‼ Sayang banget kalau kalian ga ikutan mini bootcamp ini
More information: 082225595366 (Jauza)
089505352223 (Fitri)
What's Your Reaction?