[15th of September 2023] How To Publish A High Quality Paper In A Reputable Journal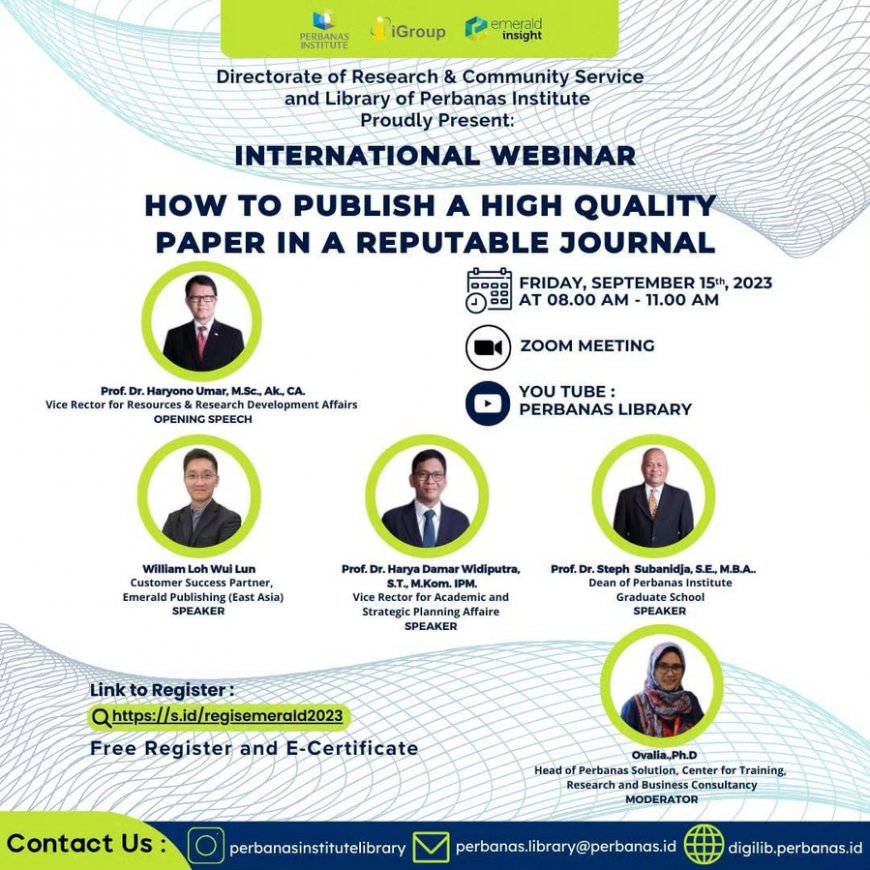 Directorate of Research & Community Service and the Library of Perbanas Institute proudly present an International Webinar
How To Publish A High-Quality Paper In A Reputable Journal
 This international webinar aims to share knowledge and encourage researchers to publish a high-quality paper to Emerald Insight.
This event will be held on:
???? Friday, 15th of September 2023
⏰ 08.00AM – 11.00 AM Jakarta Time (GMT+7)
???? Live by Zoom Meeting and Perbanas Library YouTube channel
Webinar Materials will be by three speakers, with the scope of discussion of the materials as follows:
Opening Speech:
Prof. Dr. Haryono Umar M.Sc.,Ak.,CA.
Vice-Rector for Resources & Research Development Affairs
Speakers:
1. William Loh Wui Lun
Customer Succes Partner, Emerald Publishing (East Asia)
• Publishing overview
• Selecting journal & It's information
• Where Rejection
• Peer Review Process
2. Prof. Dr. Harya Damar Widiputra, S.T., M.Kom.IPM 1.
Vice-Rector for Academic and Strategic Planning Affaire
• Why publish in an international journal?
• What constitutes a high-quality research paper?
Prof. Dr. Steph Subanidja, S.E., M.B.A.
Dean of Perbanas Institute Graduate School
• Best practice of research writing
• How writing a high-quality paper
Moderator:
Ovalia., Ph.D
Head of Perbanas Solution, Center for Training, Research, and Business Consultancy
 Link to Register: https://s.id/regisemerald2023
!! Free Register and E-Certificate
What's Your Reaction?