[6 Desember 2022] Studying in Yale University with LPDP Scholarship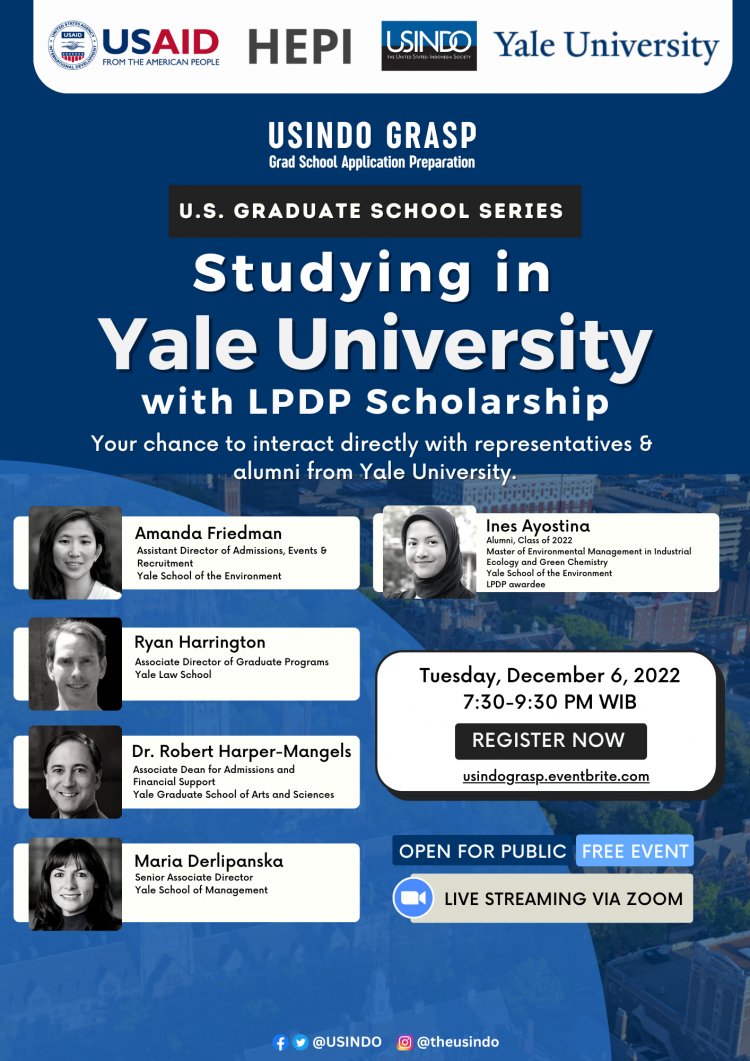 Studying in Yale University with LPDP Scholarship
Calling all prospective graduate students!
Meet directly with graduate school representatives from Yale University through our new U.S. Graduate School Series, an exclusive series of events featuring rare opportunities to interact directly with schools from a selection of top U.S. universities that are included in the LPDP scholarship list! Join us on Tuesday, December 6; 7:30-9:30 pm WIB.
Speakers:
Amanda Friedman, Assistant Director of Admissions, Events & Recruitment, Yale School of the Environment
Ryan Harrington, Associate Director of Graduate Programs, Yale Law School
Dr. Robert Harper-Mangels, Associate Dean for Admissions and Financial Support, Yale Graduate School of Arts and Sciences
Maria Derlipanska, Senior Associate Director, Yale School of Management
Ines Ayostina, Alumni, Class of 2022, Master of Environmental Management in Industrial Ecology and Green Chemistry, Yale School of the Environment, LPDP awardee
Please register at usindograsp.eventbrite.com and join us for this discussion! This event is free and open to the public. For any questions, please email [email protected].
What's Your Reaction?