[9 - 10 November 2023] The 3rd International Biomedical Instrumentation and Technology Conference (IBITeC) 2023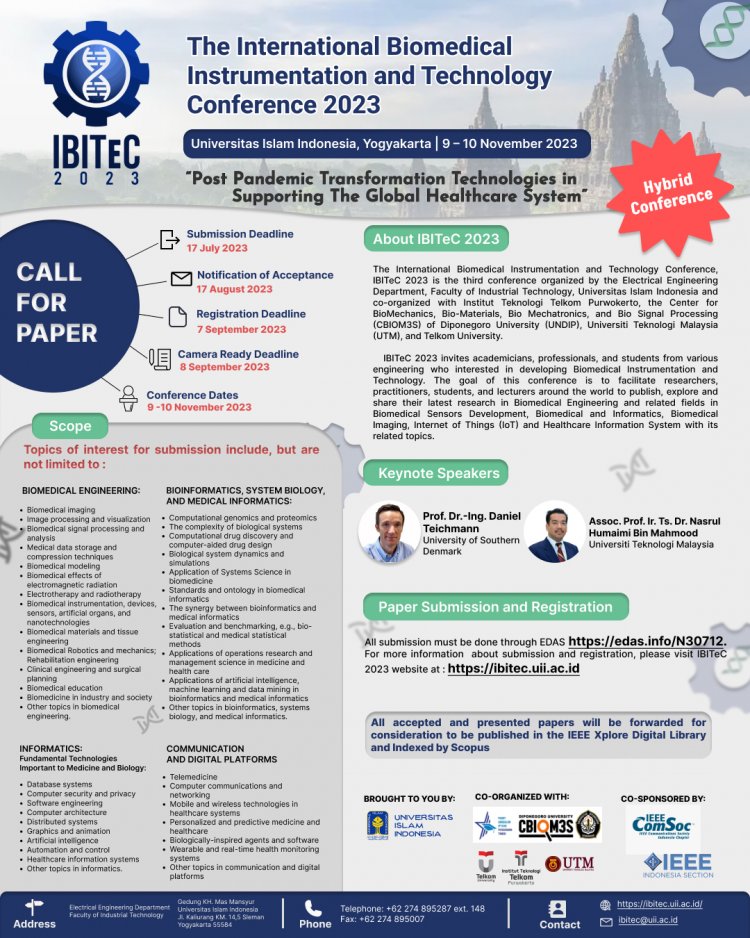 [Repost] The 3rd International Biomedical Instrumentation and Technology Conference (IBITeC) 2023
The International Biomedical Instrumentation and Technology Conference, IBITeC 2023 is the third conference organized by the Electrical Engineering Department, Faculty of Industrial Technology, Universitas Islam Indonesia and co-organized with Institut Teknologi Telkom Purwokerto, the Center for BioMechanics, Bio-Materials, Bio Mechatronics, and Bio Signal Processing (CBIOM3S) of Diponegoro University (UNDIP), Universiti Teknologi Malaysia (UTM), and Telkom University.
IBITeC 2023 invites academicians, professionals, and students from various engineering fields who are interested in developing Biomedical Instrumentation and Technology. The goal of this conference is to facilitate researchers, practitioners, students, and lecturers around the world to publish, explore and share their latest research in Biomedical Engineering and related fields in Biomedical Sensors Development, Biomedical and Informatics, Biomedical Imaging, Internet of Things (IoT) and Healthcare Information System with its related topics.
The 3rd International Biomedical Instrumentation and Technology Conference (IBITeC) 2023 will be held from November 9-10, 2023 both virtually and in-person. This year's theme is "Post Pandemic Transformation Technologies in Supporting The Global Healthcare System". All accepted and presented papers will be forwarded for consideration to be published in the IEEE Xplore Digital Library and indexed by Scopus.
Scope
(1) Biomedical engineering
Biomedical imaging
Image processing and visualization
Biomedical signal processing and analysis
Medical data storage and compression techniques
Biomedical modeling
Biomedical effects of electromagnetic radiation
Electrotherapy and radiotherapy
Biomedical instrumentation, devices, sensors, artificial organs, and nanotechnologies
Biomedical materials and tissue engineering
Biomedical Robotics and mechanics; Rehabilitation engineering
Clinical engineering and surgical planning
Biomedical education
Biomedicine in industry and society
Other topics in biomedical engineering.
(2) Bioinformatics, system biology, and medical informatics
Computational genomics and proteomics
The complexity of biological systems
Computational drug discovery and computer-aided drug design
Biological system dynamics and simulations
Application of Systems Science in biomedicine
Standards and ontology in biomedical informatics
The synergy between bioinformatics and medical informatics
Evaluation and benchmarking, e.g., bio-statistical and medical statistical methods
Applications of operations research and management science in medicine and health care
Applications of artificial intelligence, machine learning and data mining in bioinformatics and medical informatics
Other topics in bioinformatics, systems biology, and medical informatics.
(3) Informatics
Fundamental Technologies Important to Medicine and Biology:
Database systems
Computer security and privacy
Software engineering
Computer architecture
Distributed systems
Graphics and animation
Artificial intelligence
Automation and control
Healthcare information systems
Other topics in informatics.
(4) Communication and digital platforms
Telemedicine
Computer communications and networking
Mobile and wireless technologies in healthcare systems
Personalized and predictive medicine and healthcare
Biologically-inspired agents and software
Wearable and real-time health monitoring systems
Other topics in communication and digital platforms
Keynote Speakers
Prof. Dr.-Ing. Daniel Teichmann (University of Southern Denmark)
Assoc. Prof. Ir. Ts. Dr. Nasrul Humaimi Bin Mahmood (Universiti Teknologi Malaysia)
Important date
Submission Deadline: 17 July 2023
Notification of Acceptance: 17 August 2023
Registration Deadline: 7 September 2023
Camera Ready Deadline: 8 September 2023
Conference Dates: 9 - 10 November 2023
Registration