[Conference | 7 - 8 NOvember 2023] The 12th International Graduate Students and Scholars' Conference in Indonesia (IGSSCI)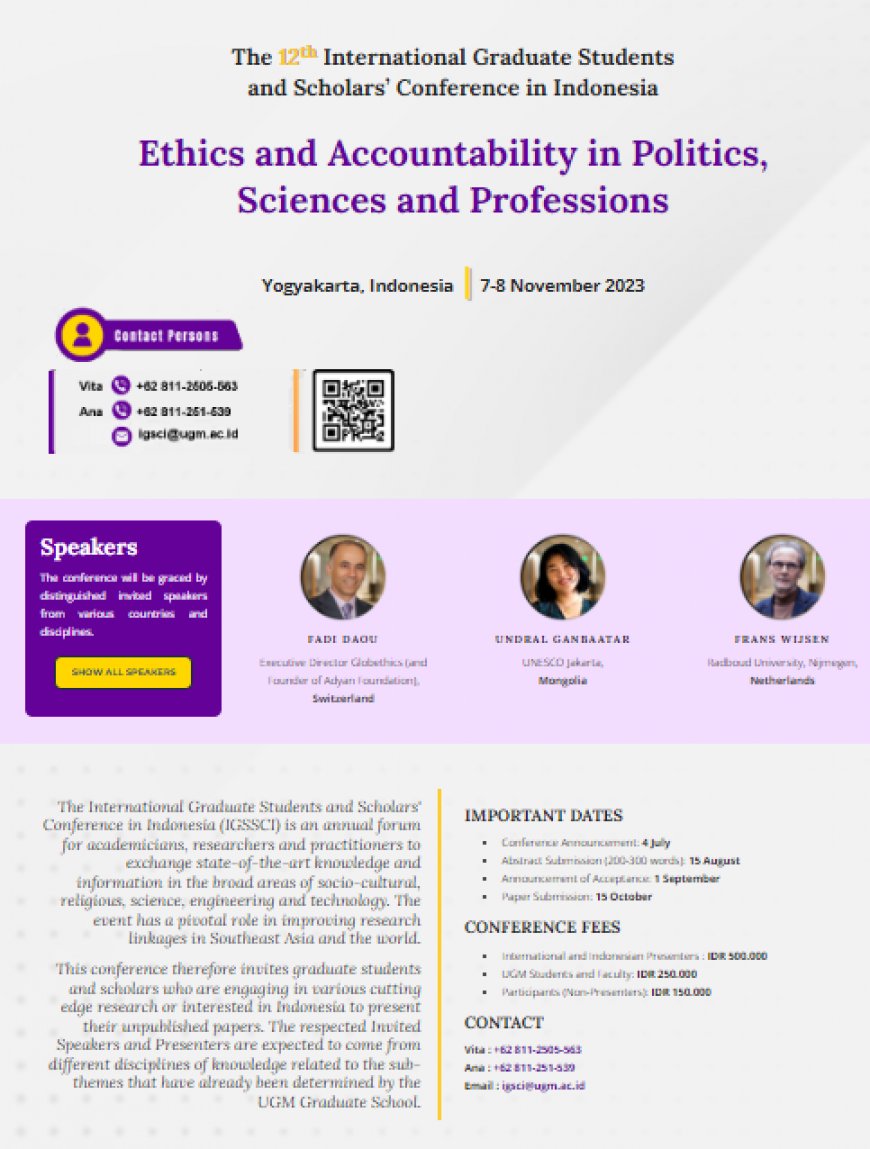 [Repost] The 12th International Graduate Students and Scholars' Conference in Indonesia (IGSSCI) | Ethics and Accountability in Politics, Sciences and Professions
The Graduate School of Universitas Gadjah Mada is organizing the 12th International Graduate Students and Scholars' Conference in Indonesia (IGSSCI), held on November, 7 - 8, 2023 with the following theme: "Ethics and Accountability in Politics, Sciences and Professions".
We invite you to participate in The 12th IGSSCI by submitting article on the topics:
Ethics in Higher Education
Democracy and Money Politics
Electoral System & Political Accountability
Ethics & Accountability in Party Politics
Accountability of Learning Machine Systems (LMS)
Bio-Medical Ethics
Ethics in Artificial Intelligence (AI)
Ethics of Environmental Care
Ethical Principles in Research & Scientific Discovery
New Media Ethics
Accountability in Citizens' Journalism
Code of Conduct in Professions
Ethics & Accountability of Professional Associations
Important Dates
Abstract Submission : 15 August 2023
Announcement of Acceptance : 1 September 2023
Paper Submission : 15 October 2023
All papers will be considered for publications in the conference proceeding, UGM journals, a special edition journal and edited volume.
Contact Persons
Vita : +62 811-2505-563
Ana : +62 811-251-539
For further information, please visit our website at http://igsci.pasca.ugm.ac.id
What's Your Reaction?