[Conference | 18 Juli 2023] The 2nd International Conference on Education Innovation and Social Science (ICEISS) 2023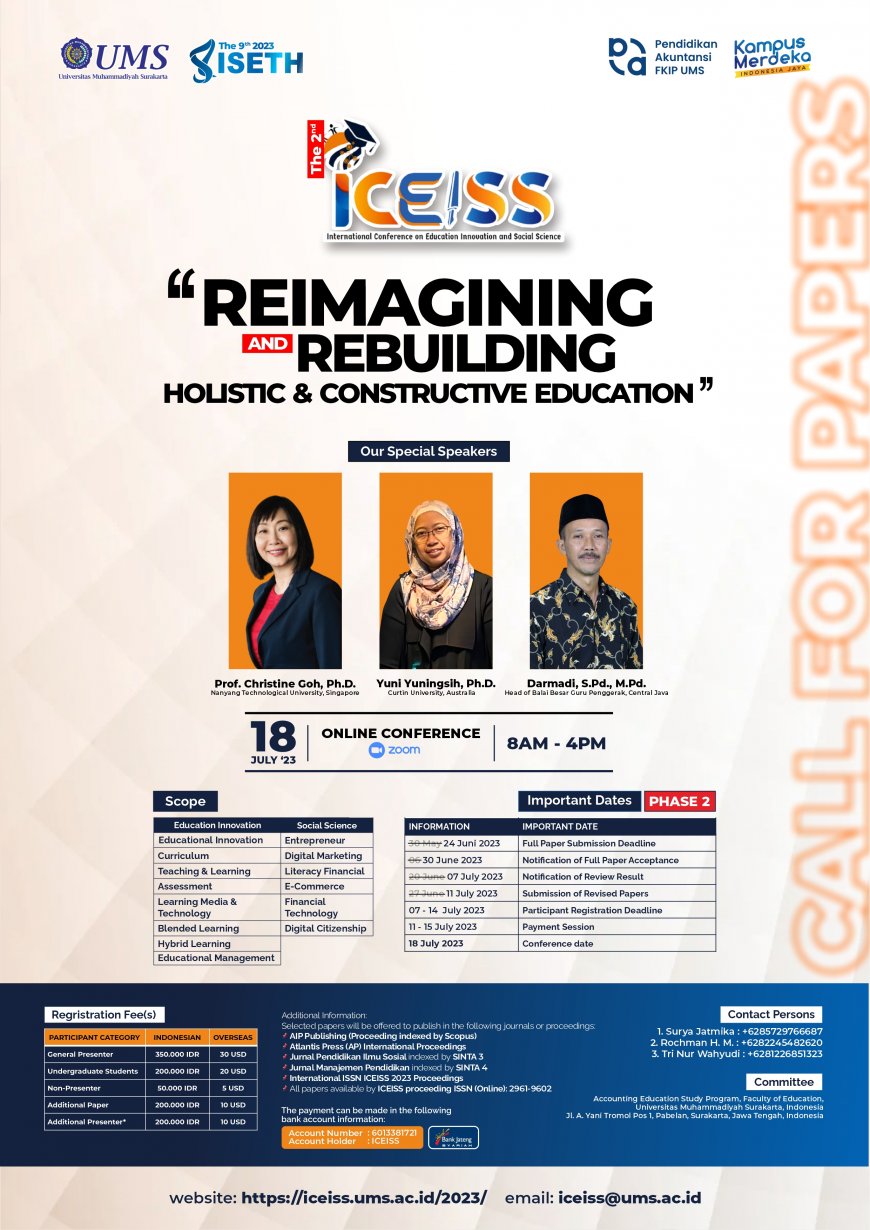 [Repost] The 2nd International Conference on Education Innovation and Social Science (ICEISS) 2023
Call for Papers
The 2nd International Conference on Education Innovation and Social Science (ICEISS) 2023 is organized by the Accounting Education Study Program, Faculty of Teacher Training and Education, Universitas Muhammadiyah Surakarta, Indonesia. This online conference will be held on 18 July 2023 with the theme "Reimagining and Rebuilding a Holistic and Constructive Education".
Keynote speakers:
Prof. Christine Goh, Ph.D (Nanyang Technological University, Singapore)
Yuni Yuningsih, Ph.D. (Curtin University, Australia)
Darmadi, M.Pd. (Head of Balai Besar Guru Penggerak [BBGP], Central Java)
Focus and Scopes:
Education
Education Innovation
Curriculum
Teaching & Learning
Instructional Assessment
Learning Media & Technology
Blended Learning
Hybrid Learning
Educational Management Social Science
Entrepreneur
Digital Marketing
Financial Literacy
E-commerce
Financial Technology
Digital Citizenship
We invite researchers, education practitioners (teachers, lecturers), governments, NGOs, and research institutes to share cutting-edge progress in education innovation and social science.
Additional information:
Selected papers will be offered to publish in the following journals or proceedings:
Publish in the AIP Publishing (Proceeding indexed by Scopus) and will be charged 2.500.000 IDR
Publish in the International Proceedings Published by Atlantis Press (AP) and will be charged 2.500.000 IDR
Publish in the Jurnal Pendidikan Ilmu Sosial Journal SINTA 3 and will be charged 500.000 IDR
Publish in the Manajemen Pendidikan Journal SINTA 4 and will be charged 350.000 IDR
Publish in the International ISSN ICEISS 2023 Proceedings and no additional charge.
All papers available by ICEISS proceeding ISSN (Online): 2961-9602
For more detailed information please visit https://iceiss.ums.ac.id/2023/