[Kesempatan Emas | 3 - 13 Juli 2023] International Summer Course 2023 by FISIP UNDIP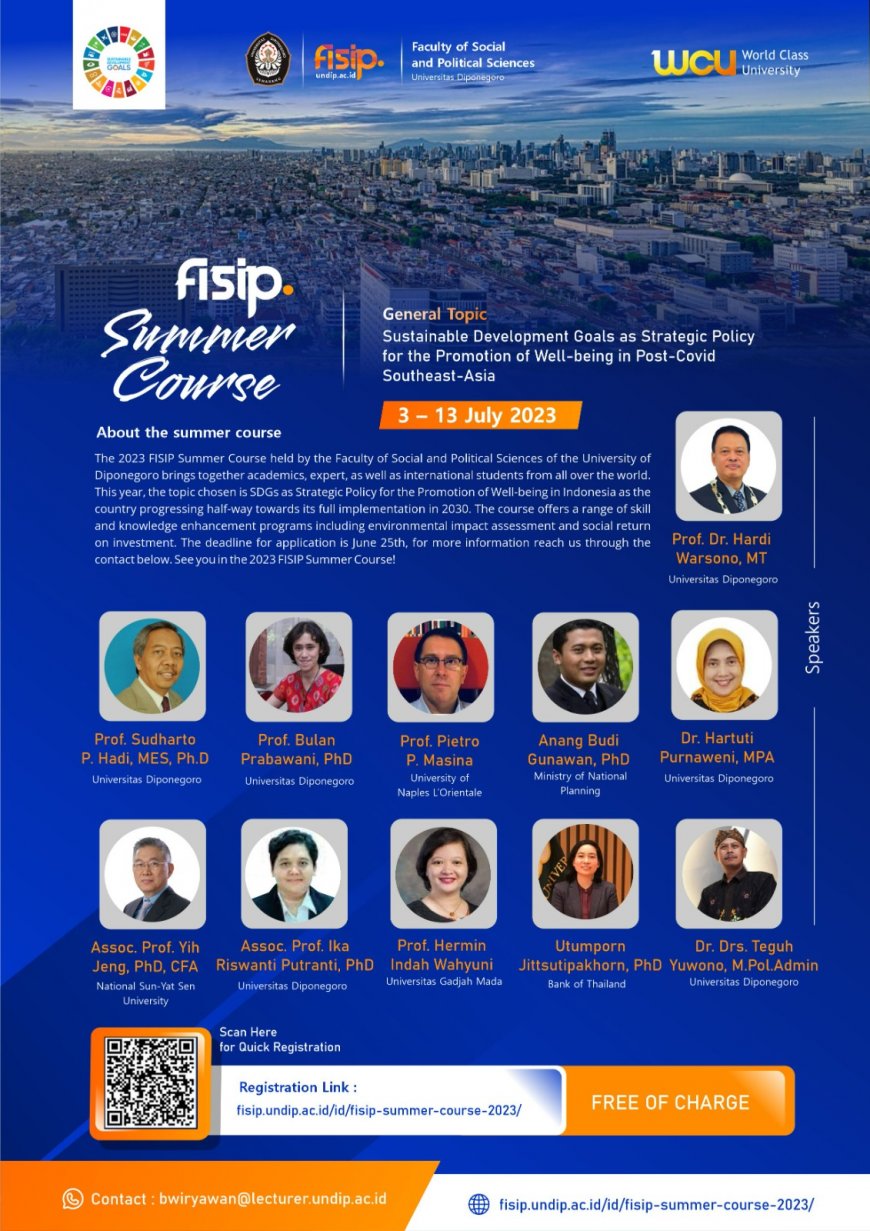 [Repost] International Summer Course 2023 by FISIP UNDIP
Let's join summer course organized by Faculty of Social and Political Sciences from Universitas Diponegoro (FISIP UNDIP), Indonesia, with the Experts Speakers who will provide a lot of new and useful knowledge about "Sustainable Development Goals as Strategic Policy for the Promotion of Well-being in Post-Covid Southeast Asia".
The Speakers:
Prof. Pietro P. Masina (University of Naples L'Orientale)
Prof. Hermin Indah Wahyuni (Universitas Gadjah Mada)
Prof. Bulan Prabawani, PhD (Universitas Diponegoro)
Assoc. Prof. Yih Jeng, PhD, CFA (National Sun-Yat Sen University)
Dr. Drs. Teguh Yuwono, M.Pol.Admin (Universitas Diponegoro)
Anang Budi Gunawan, PhD (Ministry of National Planning)
Ika Riswanti Putranti, PhD (Universitas Diponegoro)
Utumporn Jittsutipakhorn, PhD (Bank of Thailand)
Prof. Dr. Sudharto P Hadi (Universitas Diponegoro)
Dr. Hartuti Purnaweni, MPA (Universitas Diponegoro)
Summer Course will be held on the period of 3-13 July 2023 by Zoom meeting. The summer course will provide E-CERTIFICATE for participants. The program is free of charge.
For registration please visit: https://forms.gle/SWcfQqn5rG2TqdVV7
Further inquires: [email protected]
What's Your Reaction?