[Symposium | 5 - 7 Oktober 2023] Asian Symposium on Medicinal Plants, Spices, and Other Natural Products (ASOMPS) XVIII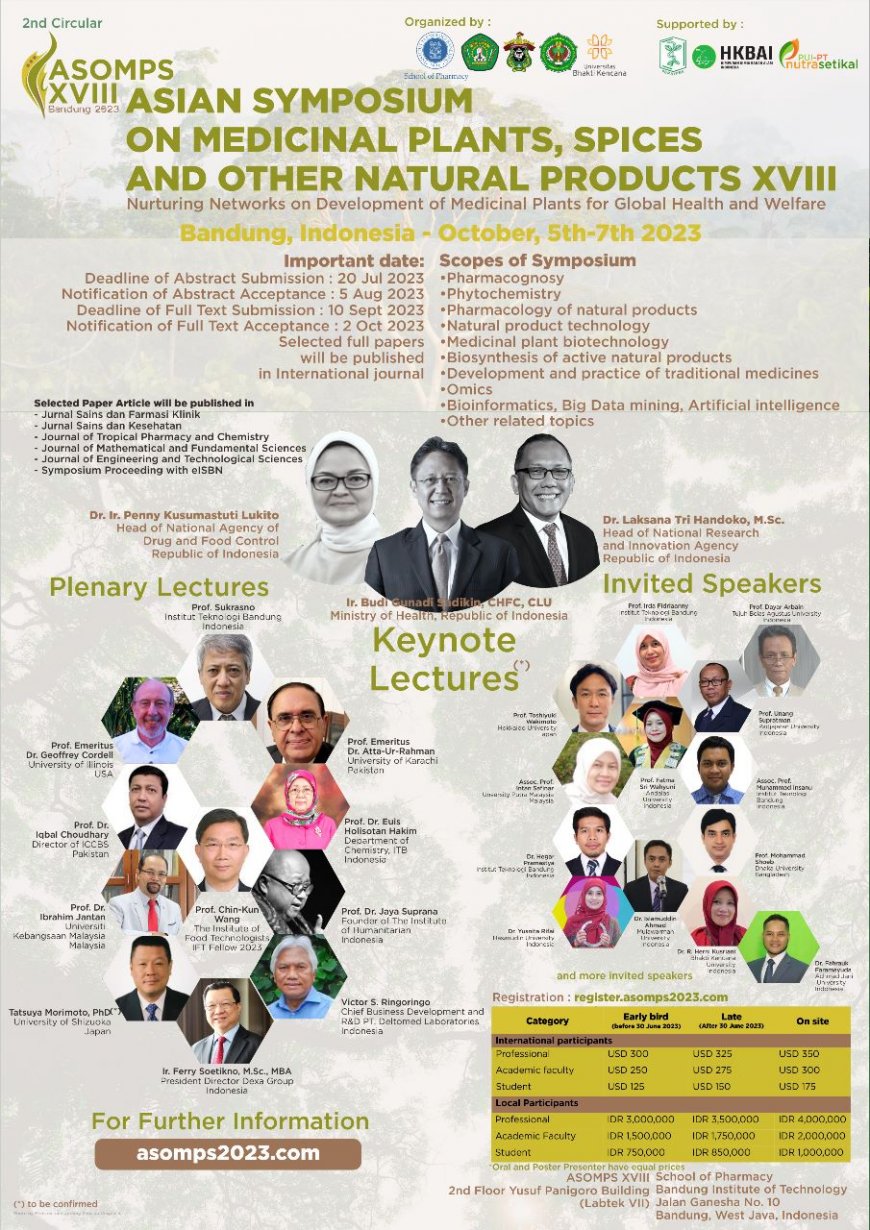 [Repost] Asian Symposium on Medicinal Plants, Spices, and Other Natural Products (ASOMPS) XVIII
The organizing committee invites you to participate in the Asian Symposium on Medicinal Plants, Spices, and Other Natural Products (ASOMPS) XVIII, which will be held in 5-7 October 2023 in Bandung, West Java, Indonesia. The seminar covers all topics on current research finding and application of natural product medicines. The use of natural product medicine has emerged from traditional to modern therapy in order to increase the quality of health worldwide. To prove pharmacological effects of medicinal plants and to further develop the rational use of herbal medicines, scientific approaches are essential. The development of sciences and technologies have highly supported the research on natural product medicines in all aspects. Recent findings from research in natural product medicines will be a major focus in this seminar.
Scopes:
Pharmacognosy
Phytochemistry
Pharmacology of natural products
Natural product technology
Medicinal plant biotechnology
Biosynthesis of active natural products
Development and practice of traditional medicines
Omics
Bioinformatics, Big Data mining, Artificial Intelligence
Other related topics
Keynote speakers:
Dr. Budi Gunadi Sadikin (Minister for Health, Republic of Indonesia)
Dr. Laksono Tri Handoko (Head of BRIN, Republic of Indonesia)
Dr. Ir. Penny K. Lukito, MCP (Head of National Agency for Food and Drug (BPOM), Republic of Indonesia)
Plenary speakers:
Prof. Sukrasno (Institut Teknologi Bandung, Indonesia)
Prof. Emeritus Dr. Geoffrey Cordell* (University of Illinois, USA)
Prof. Dr. Jaya Suprana (Founder The Institute of Humanitarian Indonesia)
Ir. Ferry Soetikno, M.Sc., MBA (President Director, Dexa Group Indonesia)
Prof. Emeritus Dr. Atta-Ur-Rahman (University of Karachi, Pakistan)
Prof. Dr. Iqbal Choudhary (Director of ICCBS, Pakistan)
Prof. Dr. Euis Holisotan Hakim (Department of Chemistry, ITB, Indonesia)
Prof. Dr. Ibrahim Jantan (Taylor's University, Malaysia)
Prof. Chin-Kun Wang (Chung Shan University, Taiwan)
Tatsuya Morimoto, Ph.D. (University of Shizuoka, Japan)
Victor S. Ringoringo (Chief Business Development and R&D, PT. Deltomed Laboratories Indonesia)
*under confirmation
Important Dates:
Deadline of Early Bird Registration 30 June 2023
Notification of Abstract Acceptance 5 August 2023
Deadline of Full Text Submission 10 September 2023
Notification of Full Text Acceptance 2 October 2023
ASOMPS 2023 Event 5-7 October 2023
More information:
What's Your Reaction?