[8-9 August 2023] The 5th International Conference on Chemical Science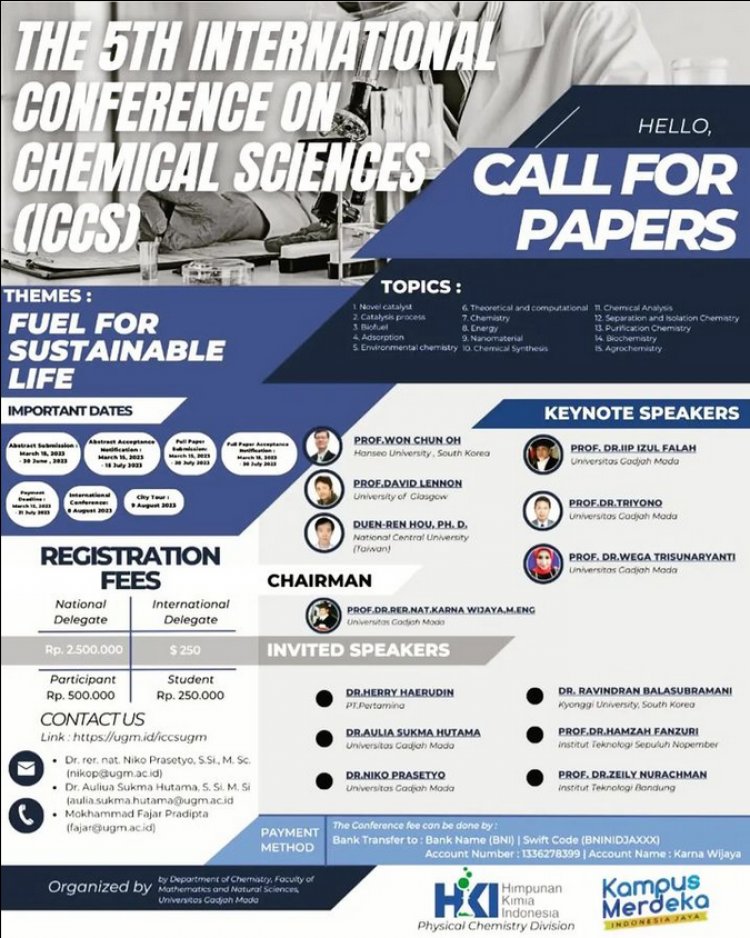 The 5th International Conference on Chemical Science
Yogyakarta, 8-9 August 2023
The 5th International Conference on Chemical Sciences (ICCS) will be held in Yogyakarta, on 8-9 August 2023. This conference is organized by the Department of Chemistry, Faculty of Mathematics and Natural Sciences Universitas Gadjah Mada (UGM), Indonesia.
It will be an avenue for graduate students, faculty members as well as researchers to share their cutting-edge research findings in chemistry. Through this scientific gathering, the researchers are expected to strengthen their research collaboration and publication. It is also likely that the conference will become a place to build a network among researchers worldwide.
The 5th ICCS is conducted as a tribute to Professor Iip Izul Falah, who has recently entered retirement. This seminar is an opportunity for us to express our appreciation and gratitude for the remarkable contributions that Professor Iip Izul Falah has made to the academic field. Throughout his career, Professor Iip Izul Falah has made significant contributions to various research and projects in Physical Chemistry. His expertise and knowledge in the field of Physical Chemistry have provided invaluable insights, inspiration, and influence to many.
The conference topics include, but are not limited to:
Novel catalyst
Catalysis process
Biofuel
Adsorption
Environmental chemistry
Theoretical and computational chemistry
Energy
Nanomaterial
Chemical Synthesis
Chemical Analysis
Separation and Isolation Chemistry
Purification Chemistry
Biochemistry
Agrochemistry
Indonesian-affiliated organization presenter
Foreign-affiliated organization presenter
Registration fee includes:
All conference materials
2-day lunch and refreshments
Complimentary excursion
For each accepted proceeding article, an additional processing charge of USD 135 will be applied for publication. This fee is separated from the registration fee above.
Universitas Gadjah Mada will comprehensively cover the article publishing charge for the best 20 manuscripts whose one (or more) of the listed authors are affiliated with Universitas Gadjah Mada. The selection is strictly done by our editor.
The conference consists of three main activities:
Plenary lectures
Invited lectures
Contributed presentations
Important Dates
9 August - Conference end date